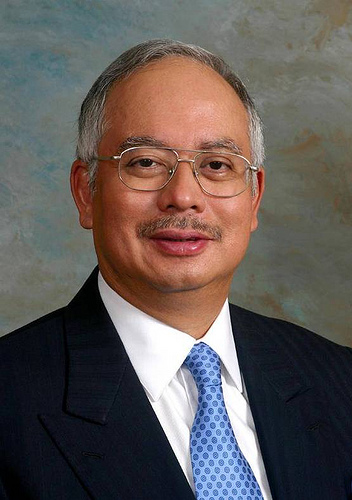 Prime Minister Najib Abdul Razak
NGO Jingga 13 lodged a report with the Malaysian Anti-Corruption Commission (MACC) today(12 March 2012) against Prime Minister Najib Abdul Razak over allegations that the Prime Minister's Office (PMO) footed the bill for his daughter's engagement party.
The report, which also names Najib's wife Rosmah Mansor, claims that $135,000 in public funds were spent on the party, which took place on June 17 last year.
"We hope that the MACC will investigate the document and if necessary charge Najib  for abuse of power," Fariz, Jingga 13 chief, said.
"$6,200 was spent for the reception of 36 VIPs costing $172  each and $ 102,000 for the reception for 862 people, with an operating cost of $ 27,000," Fariz said.
However, PMO has denied that public funds were ever used for the banquet held at Shangri-la Hotel.
People's Justice Party (PKR) strategy director Rafizi Ramli, who first revealed the party order, has called on the prime minister to prove that the bill for the party was paid out of his own pocket.