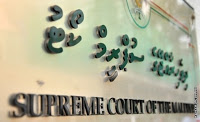 Supreme Court of Maldives
5 June 2010. The Judges Association of Maldives (JAM) has condemned President Mohamed Nasheed's criticism of the Judicial Service Commission's (JSC) decision on determining guidelines for the reappointment of sitting judges as "disrespectful towards the honour and dignity of judges" and indicative of the "negative view he holds of the judiciary".
Article 285(b) of the constitution stipulates that the JSC shall determine whether or not sitting judges possess the qualification of judges specified in article 149 before August 7 2010.
The article states that judges must possess "educational qualifications, experience and recognised competence to discharge the duties and responsibilities of a judge, and must be of high moral character."
On May 9, the JSC voted to approve as minimum standards to determine "high moral character" that judges must not have been convicted in a court of law of an offence with a punishment prescribed in the Quran, criminal breach of trust or bribery.
Two days later, the commission approved guidelines for determining educational qualifications, experience and competence.
In his radio address on May 28, President Nasheed said he believed the JSC decision could hinder the commission's mandate of ensuring public confidence in the judiciary.
According to the guidelines approved by the commission, said Nasheed, sitting judges would be eligible for reappointment if they have not been convicted in court of 29 criminal offences decided upon by the JSC.
The statement signed by Justice Mujthaz Fahmy, president of the JSC, notes that differences of opinion among members only emerged over the criteria for determining high moral character.
Fahmy replaced High Court Judge Abdul Gani Mohamed as President of the JSC on February 21 when the latter was removed by a ruling from three Judges of the High Court.
The sub-committee, consisting of Judges Adam Mohamed Abdullah and Abdullah Didi from the JSC as well as Chief Judge of the Juvenile Court Shuaib Hussein Zakariya and Civil Court Judge Abdullah Ali, did not consider either the previous proposals or "the purpose and spirit of the constitution and the objective of article 285."