31 March 2015
Lee Kuan Yew is no more. He will be remembered by many for many reasons. Today corruption.net is looking at why he will be remembered for his relentless fight against ant-corruption.
In October 1951, a large shipment of opium was hijacked by thieves from the port town of Punggol, in north-east Singapore. British authorities investigated and found that the thieves included several high ranking officers of the Singapore Police Force. In the aftermath of the scandal, the British colonial government set up the Corrupt Practices Investigation Bureau (CPIB) in 1952 and sited in the Attorney-General's Chambers.
Lee Kuan Yew was familiar with the corrupt practices prevailing in the then government. He was convinced that corruption would deter economic progress in the country. He decided to start with a clean slate. In the 1959 election, the Peoples' Action Party (PAP) campaigned against the Government's corrupt practices. This resonated well with the voters. After the elections his team turned up in all-white as a promise to the people that their leaders will not stand for corruption and will be "whiter than white". This tradition continues till today in PAP.
After assuming office as first Prime Minister LKY moved CPIB to the Prime Minister's Office.PM Lee adopted a carrot and stick approach to combat corruption.
In the 1980s Lee enacted salary raises for senior level government officials and politicians. This was a pragmatic way of keeping the high level corruption at bay. This was enhanced repeatedly in 1973, 1979, 1982, 1989 and 1994 to bring the salaries on par with the well paid private sector. He was severely criticised by the public and media. It was said that his pay was higher than that of the US President and senior members of the civil service earned more than four times of what their US Federal counterparts earned. He took it on the stride and implemented his policies and had the last laugh. Today the average per capita GDP (PPP) of Singapore is much higher than that of the US and is third highest in the world.
Probably he was also the most criticised politician in Singapore.  Eventually he was proven right and only then people appreciated his wisdom.
Graham Allison in his book entitled "Lee Kuan Yew: The Grand Master's Insights on China, the United States, and the World (Belfer Center Studies in International Security)" writes: "When Lee Kuan Yew speaks, presidents, prime ministers, diplomats, and CEOs listen."
Transparency International ranked Singapore in 2010 in the first place in tie with Denmark and New Zealand. In 2014 Singapore slipped to the 7th position. This probably was due to the high profile cases of Peter Lim Sin Pang( 1) and Ng Boon Gay(2) and Tey Tsun Hung(3).
"He tackled corruption relentlessly and held public servants to the highest standards", said World Bank Group CEO Jim Yong Kim.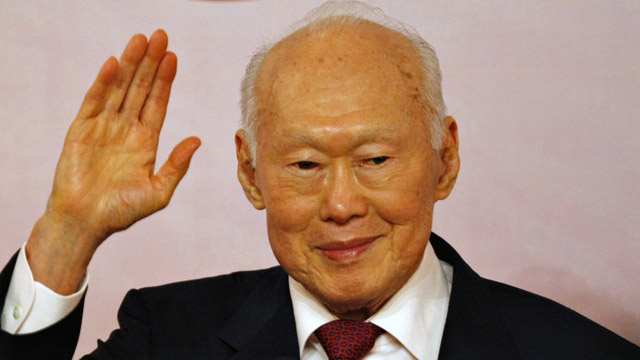 In 1984 the Commercial Affairs Department (CAD) was created as a unit of the Singapore Police to deal with white collar crimes.  Glenn Knight, a prosecutor par excellence, was appointed as its first Director. He lost his post in 1991 after being convicted of corruption in a much-publicized trial. In 1998, he was again tried and convicted for misappropriating money while in office.
Khoo Hin Hiong was a magistrate who was charged for corruption by aiding and abetting businessman Cho Jock Kim to commit criminal breach of trust of $ 218,495 and $ 30,000 belonging to International Holdings. He was prosecuted by Glenn Night and was sentenced to 3 years in jail.
Collapse of Pan-Electric Industries was one of the biggest corporate failures which forced Singapore and Malaysian stock exchanges to close for 3 days. The company owed money to 30 banks and more than 5000 shareholders were left high and dry with worthless share certificates after the company was declared bankrupt. Peter Tham, Tan Kok Liang, and Tan Koon Swan, who were the major shareholders, were prosecuted by Glenn Knight and were sentenced to jail.
.
Knight also led the prosecution team in Singapore's first case of insider trading, that of former United Overseas Bank banker Allan Ng.
In March 1991, Knight himself came under investigations. He was charged with corruption on 28 May 1991. Knight pleaded guilty to cheating then managing director of Trans-Island Bus Services Ng Ser Miang to invest in the Batam Island Country Club on the Indonesian island of Batam, which had been planned by Knight and his wife. He was imposed a fine of $17,000  and a day in prison.
In 1998, Knight was again charged in court for misappropriating money totaling $4,200 when he was still the CAD's Director. He was sentenced to a fine of $10,000 another day in jail..
LKY said in a speech," Wee Toon Boon was minister of state in the Singapore ministry of the environment in 1975 when he took a free trip to Indonesia for himself and his family members, paid for by a housing developer. He also accepted a bungalow worth S$500,000 from this developer. He had been a loyal non-communist trade union leader and my staunch supporter from the 1950s. It was painful to have him charged, convicted and sentenced to four years and six months in jail."
Teh Cheang Wan was the Minister for National Development from 1 February 1979 to 14 December 1986. Teh was investigated for corruption by the CPIB Bureau for accepting two bribes of $500,000 each in 1981 and 1982.  Lee Kuan Yew, approved an open investigation on his alleged corruption in November 1986. Teh committed suicide on 4 December 1986, before being charged for the offences.
Many legal reforms were made to assist in identifying, prosecuting and convicting corrupt persons.
In a speech LKY said "We also amended the law to put the burden of proof on the defendant or accused if he/she had more assets than his income as reported in his income tax returns, from his employment or business could have given him. He has to disprove the presumption of guilt that they were gained by corrupt means."
The Director of the CPIB reported directly to the elected Prime Minister. If the elected Prime Minister refused to move then he could go the elected President who can act independently of the elected Prime Minister. The president also has the veto on appointments to important positions like the Chief Justice, Chief of Defence Force, Commissioner of Police, the Attorney General, Auditor General and other key positions that uphold the integrity of the institutions of government.
In 1985 a rumor went around that LKY and the then Deputy Prime Minister Lee Hsien Loong had gained an unfair advantage by getting a discount on their purchase of flats from a developer on whose board was LKY's brother a non-executive director. Prime Minister Goh Chock Tong ordered an investigation. Monetory Authority of Singapore investigated and reported to the Prime Minister that there was no impropriety. The developer had given to 5–10 per cent to his buyers at a soft launch to test the market.
LKY asked the prime minister to take the matter to Parliament. In the debate, opposition MPs, including two lawyers, one a leader of the opposition, said that such discounts were standard marketing practice and was not improper.
LKY said, "This open debate made it a non-issue in the general elections a year later. Leaders must be prepared for such scrutiny to keep the system clean."
LKY's tenet was to air all the problems in the public and discuss and find a solution.
Now, CPIB is managed by a few dozen officials and using just 7% of the funds allocated the prime minister's office. It cleared two thirds of its investigations within 30 days, 94% within 60 days and 98% within 90 days. The prosecution rates for highly pursuable cases have gone up to more than 90%.
After Singapore's founding father Lee Kuan Yew was laid to rest on Sunday, business leaders in Singapore wanted his legacy to be carried on relentlessly. They said that the nation in part has become victim of its own success – with rising affluence, people have mellowed and allowed themselves and the younger generation to become soft. This is not good. You have to be tough to survive in this world, they said.
LKY was not the first prime minister to be clean. There were many before him. There were many during his time. There are many after him. According to Transparency International there are 6 countries ahead of Singapore and cleaner than Singapore. Yet he stands out as a champion of anti-corruption because he transformed Singapore from very corrupt state to one of the cleanest in the world. He said that during his early days of his political carrier he carried a sharp hatchet in his red brief case. Such was the condition of Singapore when he inherited it. He stands out for leaving an enduring legacy.
The broader question is will the legacy left by LKY will continue. My personal conviction is that it will continue. For how long will it continue? It may be, for another 50 or 100 years. Whenever I mention this to my friends, I was confronted with the question "like Aljunied?". Here the word Aljunied refers to  Aljunied-Hougang-Punggol East Town Council (AHPETC) which is headed by the opposition Workers' Party. Auditor-General's Office reported some lapses in the governance and compliance of the town council.
Opposition Party chief Low Thia Khiang spoke publicly about the Auditor-General's Office's report for the first time in Parliament on Feb. 12, 2015. He said that his party takes seriously the findings of lapses in governance and compliance and supports the government's move to strengthen the oversight of town councils.
This shows that he is willing to be transparent and be subjected to inquiry and fact finding.
I still strongly believe that LKY has laid out a track which will be difficult for any future government, be it the ruling party or an opposition party, to swerve from. He once said that he would rise from his grave if someone abused
the funds that belonged to the country. One day, within the next 100 years,  his worst fear may come true. This may happen during the power of the ruling party or the opposition. If that happens, that will be due to some dire circumstances in the country and not to line the pockets of any individuals. After seeing this  Mr Lee will go back to his grave peacefully. I do not believe any individual, however avaricious he is, will try to benefit from this national wealth.
Note1. You can read about Peter Lim Sin Pang's high profile case in the corruption.net archives here.
Note2. You can read about Ng Boon Gay's high profile case in the corruption.net archives here.
Note3. Read about  Tey Tsun Hung case in the corruption.net archives here.