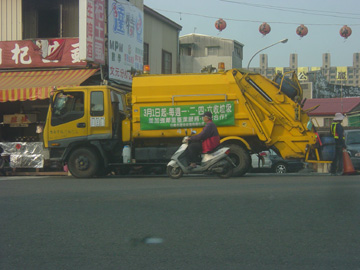 Garbage Truck
23 May 2012.A Kaohsiung City government official was detained Wednesday on suspicion of corruption, the Kaohsiung District Prosecutors Office said.
Prosecutors said the official named Wu was in charge of an auto repair plant under the city government's Environmental Protection Bureau, which was responsible for the maintenance and repair of garbage trucks in the city.
The plant is required to turn in the proceeds from the sale of redundant vehicle parts and components while old tires should be recycled, in accordance with regulations. Wu had instructed several workers at his plant to sell the scrap metal parts, tires and recycled engine oil to private operators, and had collected several millions of dollars for the employees' welfare committee, prosecutors said.
After the committee was disbanded in 2008, Wu continued to ask the workers to sell the scrap items, prosecutors said. Prosecutors detained and questioned five workers in relation to the case, but released them all on bail of NT$50,000 (US$1,691) each.