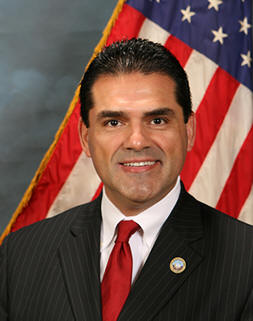 John Noguez
2 June 2012. Los Angeles County Assessor John Noguez has stepped aside as the result of a wide-ranging probe of influence peddling at his office.
Noguez and his top aides are at the centre of a Los Angeles district attorney investigation into whether they lowered property taxes for prominent contributors to Noguez's successful 2010 campaign.
Supervisor Michael D. Antonovich issued a statement saying that Noguez was taking a leave from his position.
Scott Schenter, a former Los Angeles County appraiser, was arrested on May 21 and charged with falsifying records and unlawfully lowering property values by $172 million. Schenter, 49, pleaded not guilty last week to all 60 felony counts.
Schenter told The Times that he secretly and improperly lowered property values to reduce the wealthy owners' tax bills. He said he did it in the hope that they would donate to Noguez.
Schenter also said Noguez offered him a promotion and, along with several top aides, had pressured him to raise campaign funds.
Previous post:  USA: LA County assessor under corruption probe