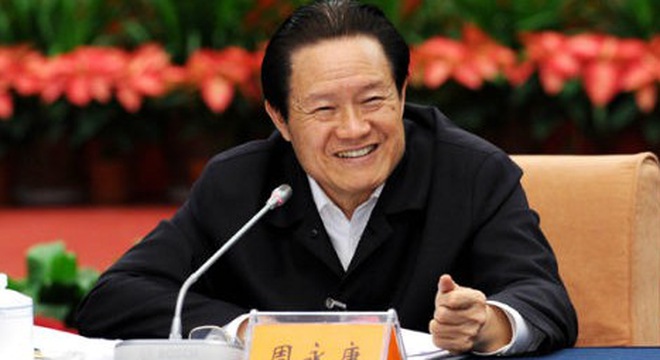 Zhou Yongkang. News papers claim that Zhou never smiles. Doesn't he?
30 July 2014
State news agency Xinhua said that Communist party's central commission for discipline inspection will commence investigations of corruption allegations against former security chief, Zhou Yongkang. This is the highest level enquiry since Communist Party took power in China in 1949. This is the formal announcement of the Communist party and the government. But the leaders of the party were aware of Zhou's crime as far back as 2012 when Bo Xilai's wife was arrested. No action was taken against him at that time because it would have derailed the ascension of Xi Jinping to the Presidency in March 2013. There was also a tacit understanding among the party's high ranks to close one eye to the crimes of top leaders in order to preserve party unity. Xi does not seem to agree with this. He is right. He is not wrecking the party , instead he is consolidating it even stonger than ever.
Zhou was a protégé of Jiang Zemin's. Jiang Zemin is now said to be in vegetative state due to his old age.
It was reported that Zhou's son was arrested as he was leaving Singapore for the US in December. Many of Zhou's aides, associates and family members had been detained for questioning. Some of these detentions were announced publicly.
The writing was on the wall. I have hinted this on several of my previous posts in this blog and I have listed them below. When Bo Xilai's wife was arrested and tried, Zhou Yongkang's fate was sealed. Jiang Zemin's faction was losing power and Xi Jinping / Hu Jintao faction was getting the upper hand. Hu Jintao's move to put Bo Xilai and his wife was a bold move meant to show the rank and file of the party the rising popularity of his faction and the future Party leader Xi Jinping.
Xi's election pledge was to end corruption in China and he got the mandate for it. He wants to end corruption at high level and at all other levels. In his first step, he told his family members to dispose their assets in corporations and other investments. In a post entitled "China: Sincerity in fighting corruption is put to test", I wrote about the enormous wealth owned by Xi's family before he became president.
President Xi's move is a historical milestone in the fight against corruption. He has set precedence that there is no off-limit boundary for fight against corruption. Compared to Hu Jintao's time, China now has higher political and economic clout. Xi will be remembered as one of the most popular leaders in China in the recent time.
Now let us go on a quick flashback. On 17 May 2012 Xinjiang Daily reported that Zhou was elected as Xinjiang delegate to the 18th Congress of CCP the previous day (i.e. 16 May 2012). On 17 May 2012 Zhou had an inspection tour of Xinjiang. This was aired in the official TV prime news with 4.5 minutes footage. On 18 May 2012, Zhou delivered a speech which was attended by high level party members such as Hu Jintao, Wen Jiabao and Xi Jinping. On the same evening Zhou's name was found to be missing from the delegates list of the 18th CCP conference. The rumours were rife that Zhou has fallen out of favour. It is amazing to note how fast the winds of fortune can change in China.
One by one Zhou's aids, allies and protégés were tried, sentenced and disposed of or expelled from the party.  There is no doubt that Zhou will be tried and handed down a severe sentence. But the sentence will be commuted later as was in the previous corruption trials.
Other articles relating to Zhou Yongkang in this blog are:
11 April 2012 – China: Bo Xilai's wife arrested – In this article I related how Zhou Yongkang was protecting Bo Xilai.
22 April 2012 – China: Bo Xilai in a web of power struggle. In this article about Bo Xilai, I wrote that Zhou Yongkang was protecting Bo Xilai causing a rift in the communist party.
20 February 2014 – China: Top Leaders Split Over Handling of Security Czar. In this article I said that the party leaders were aware of Zhou's crimes as far back as early 2012. I also mentioned that Premier Wen Jiabao wanted to expose Zhou's crimes against Falun Gong, including the widespread use of torture and cases of Falun Gong practitioners being killed for their organs.  Zhou was not exposed for fear of causing a rift in the party.
14 March 2014 – China: Hainan Vice Governor under Corruption Investigation. In this article I wrote about the arrest and investigations of Ji Wenlin and that he was a protégé of Zhou Yongkang.
21 March 2014 – China: Retired General under corruption probe. In this article I mentioned that the party had commenced investigations on Zhou Yongkang.  I also gave a brief account of his life history and how he came to power I also mentioned the charges against him and that he was detained as of this date for investigations.