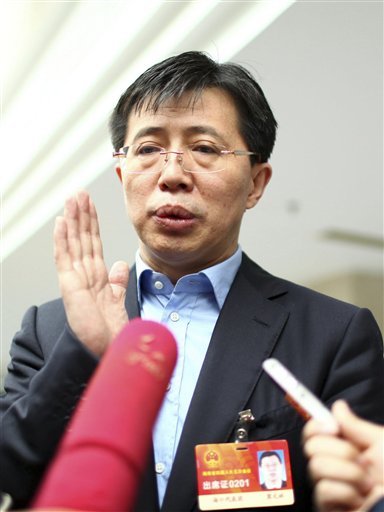 The disciplinary arm also released a one line statement that Ji Wenlin was suspected of serious violations of the regulations and the law. It is widely known that Ji has personal and professional connections with former security head, Zhou Yongkang, who is also said to be under investigations. Ji had serves as the secretary and aid to Zhou during the time he was minister of land resources and Sichuan Provincial head in the 1990s and 2000s.
19 February 2014
Chinese Communist Party has revealed that the Vice Governor of southernmost island province of Hainan was under investigations for 'serious violations' – an expression usually refers to corruption.
is then first high ranking official to be investigated after President Xi Jinping took over the party presidency.
Hainan province is a well-known tourist destination and is also famous for its cuisine such as Hainanese chicken rice. Late Deng Xiaoping, set up Hainan province as the largest Special Economic Zone in the late 1980s. Since then the economy of this island province has been flourishing.
At the same time the party also said that the Vice Chairman of Chinese People's Political Consultative Conference in the north western province of Shaanxi was under investigations for violation pf party discipline and laws.Zhu Zuoli is not known to be linked to any high ranking party officials.
President Xi Jinping has made it clear that both low level and high ranking officials will be investigated if they are suspected of any wrong doings.