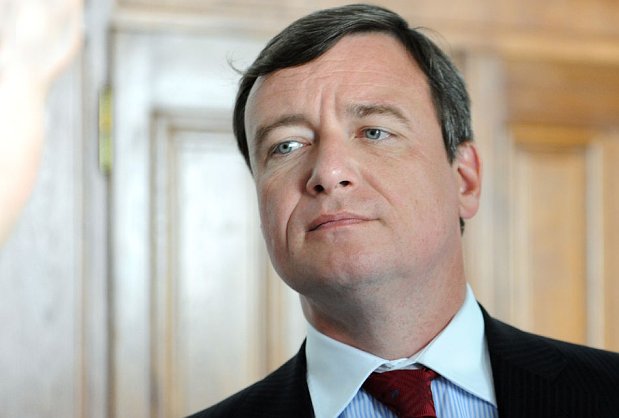 David Rath
13 June 2012. Czech MPs stripped a leading politician of his parliamentary immunity on Tuesday in one of the country's most high-profile corruption cases. David Rath, a former health minister, former governor of the Central Bohemian region and vocal member of the opposition Social Democrats, appeared in Parliament under police escort to defend his mandate, but was cold-shouldered by both fellow party members and the majority of other sitting MPs in a 183 to two vote.
Rath was arrested on 14 May after he was found carrying a wine box containing seven million Czech korunas (EUR 276,309) and which he claimed he thought had contained bottles of wine.
The arrest followed from a several-month police investigation that involved wiretapping of phone calls and office meetings. A further 30 million korunas (EUR 1.18 million) were later found under the floorboards in Rath's home.
Rath, resigned his governorship after his arrest but remained an MP. He has been in police custody since his arrest after a judge ruled there was reasonable concern he might flee, seek to influence witnesses or continue his alleged criminal activity.
The decision to lift his parliamentary immunity means he is now liable to prosecution for corruption.  He is alleged to have mismanaged European Union funds and to have taken bribes in exchange for awarding public contracts, including for the renovation of a castle and a hospital in Bohemia.
Speaking in Parliament, Rath accused the ruling right-wing Civic Democrats of organising a political vendetta against him, likening his case to that of imprisoned former Ukrainian prime minister Yulia Tymoshenko.
Rath's is the most high-profile case in a string of recent arrests for graft signalling a certain effort by the government of Petr Necas to tackle endemic corruption. Former transport minister and Public Affairs Party founder Vít Bárta was handed an 18-month suspended sentence in April for having bribed party members in an effort to guarantee loyalty.
Wiretapped phone conversations leaked by the media in March also revealed collusion over the allocation of city funds between lobbyist and entrepreneur Roman Janousek and former Prague mayor Pavel Bém in 2007.
Anti-corruption activists hope the recent cases show that prosecutors are becoming increasingly assertive in tackling high-level political corruption. Reports that the Rath case would be moved from Central Bohemia's Ústí to Prague nonetheless were met with concern, owing to the reputation of Prague's chief prosecutor for shelving cases involving high-profile figures.
Shortcomings in Czech usage and monitoring of EU funds have led to the payment of these subsidies being suspended since March, causing the government to warn that the budget deficit may double to six per cent of GDP this year.