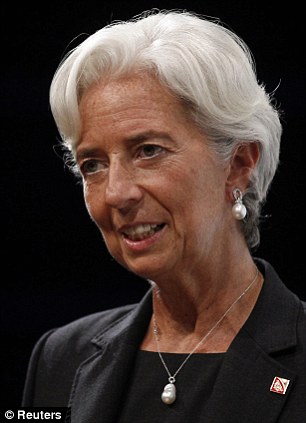 18 April 2013.  IMF chief Christian Lagarde has being asked to appear before the court to answer questions regarding the role she played resulting in a huge pay out to disgraced tycoon Bernard Tapie.  The incident happened during her time as a French minister.
The International Monetary Fund (IMF) says that Christian Lagarde, the newly appointed managing director, will be able to perform her duties despite possible legal action against her.  The French Court of justice announced Thursday that it will open an investigation on the IMF chief for her role in of 400,000,000 U.S. dollar arbitration pay out in favour of a controversial tycoon.  Lagarde was French finance minister when Bernard Tapie won a settlement with a French owned state bank over the mishandling of the sale of sportswear maker Adidas in the 1990s. Media sources said that Lagarde overstepped her authority in allowing the arbitration to go forward.  It will take several months before the investigation is completed and the case is referred to the special court for trial.
Today the anti-corruption police raided her apartment in Paris.  It is not known whether the police found or ceased anything from her apartment. At the time of the raid Lagarde was in Frankfurt. She is believed to be thinking of running for the Presidential election in 2017.
 Bernard Tapie sold his business interest in sportsware maker Adidas to the then government owned Credit Lyonnaise,  now part of Credit Agricole, for GBP 300 million.  Within months the bank sold the company for more than twice the amount which led Tapie to demand compensation from the bank. Mrs Lagarde appointed a panel of 3 judges to arbitrate and allowed the equivalent of £270 million in compensation to be awarded to Tapie in 2008 when Mr Sarkozy was French president and she was finance minister. Critics said the settlement was too generous. Mrs Lagarde, whose salary as IMF managing director is £300,000, denies wrongdoing.
In 1997 Tapie was jailed for match-fixing. He owned one of France's biggest football clubs, Olympique de Marseille.
Dominque Strauss-Kahn, another senior French politician, was sacked as IMF chief after allegations that he raped a chambermaid in a New York hotel two years ago.