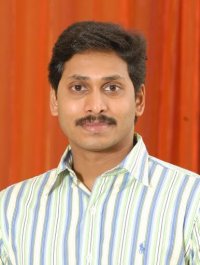 YS Jagan Mohan Reddy
25 May 2012. Amid tight security, YSR Congress party president and Kadapa MP YS Jagan Mohan Reddy on Friday appeared before the Central Bureau of Investigation to face questions in connection with corruption allegations.
Jagan reached the Dilkusha Guest House, CBI's temporary office, at around 10.30 am in a heavily guarded convoy. Security personnel in large numbers were deployed on the entire 7-km stretch from Jagan's residence Lotus Pond in Banjara Hills to Dilkusha Guest House on Raj Bhavan Road.
According to sources, the CBI team led by Joint Director VV Lakshminarayana began questioning Jagan over the land allotments done for the Vadarevu and Nizampatnam Ports and Industrial Corridor (VANPIC). The questioning was reportedly done in the presence of two other accused in the case, industrialist Nimmagadda Prasad and senior bureaucrat KV Brahamandna Reddy. He was grilled for more than seven-and-a-half hours.
However, the YSR Congress party chief was looking relaxed after coming out of the CBI office in the evening today.
Talking to the waiting reporters Jagan said, "I answered all the questions asked by the CBI very coolly and I am very much satisfied after answering them."
"I will come again tomorrow and answer rest of the questions," Jagan further said.
The CBI had, yesterday, arrested Excise Minister Mopidevi Venkatramna soon after he appeared before agency officials for questioning for a second consecutive day. Venkataramna was minister for infrastructure and investment in the Rajasekhara Reddy government when certain companies were allegedly shown undue favours in return for investments they made in businesses of Jagan, the chief minister's son.
Sources say that the CBI might arrest Jagan on Saturday, after conducting another round of questioning in the presence of Jagathi Publications vice-chairman Vijaya Sai Reddy. Jagathi Publications is the personal media of propaganda for the YSR Congress party leader Mr. Jaganmohan Reddy and is owned by him.
Previous posts:  India: Two arrested in Jagan's alleged corruption case in Andhra Pradesh and India: MP Jagan Mohan Reddy charged with corruption
and watch this video: Jagan Reddy quizzed by CBI for over 7 hours – NewsX
[[{"type":"media","view_mode":"media_large","fid":"4″,"attributes":{"class":"media-image","typeof":"foaf:Image","height":"360″,"width":"640″,"style":""}}]]