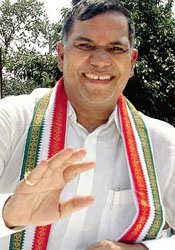 Kripashankar Singh
Mumbai Regional Congress Committee president Kripashankar Singh came under probe after a social worker, Sanjay Dinanath,  filed a public interest litigation (PIL). On hearing the Bombay High Court on Wednesday (22 February)  noted that prima facie Singh and his family members possessed assets disproportionate to their known sources of income.
The court directed Mumbai's police to register a First Information Report (FIR)  and appointed commissioner Arup Patnaik to investigate and to attach all movable and immovable properties held by Singh and his family.
The court has also directed the commissioner to treat the memo of the PIL as a FIR and submit a report of investigation by 19 April 2012.
During the course of hearing on the PIL, the Maharashtra Anti-Corruption Bureau (ACB) told that 11.59% of the assets held by Kripashankar Singh and his wife Maltidevi were disproportionate to their known sources of income.
Kripashankar Singh announced his resignation following the court decision. It also coincided with the announcement of the results of Brihan Mumbai Corporation election in which the Congress party scored poorly.