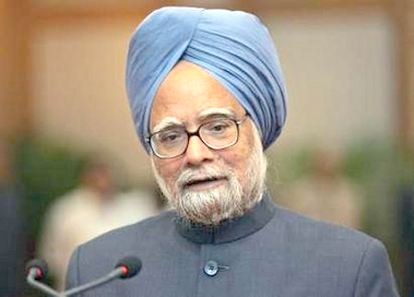 PM Manmohan Singh
3 July 2012. The Prime Minister has approved an important amendment to the Prevention of Corruption Act. This amendment requires the competent authority to decide whether to sanction or decline prosecution within three months after a citizen files a complaint.
The sanction can only be given if a police complaint has been filed by a private citizen or if the appropriate court has taken cognizance of a complaint.
The amendment comes about because the Supreme Court ruled that sanction must be decided within three months. This decision was given in connection with a case in which Janata Party President Subramanian Swamy, had in 2010, asked for the sanction against Mr Raja, who was then telecom minister. The Supreme Court faulted the Prime Minister's office for dilly dallying for nearly 16 months to decide on whether to allow the prosecution of A Raja. The judges also pulled up officials in the Prime Minister's office, stating that the "concerned officers in the Prime Minister's Office kept the matter pending and then took the shelter of the fact that the CBI had registered the case and the investigation was pending."
The Criminal Procedure Code (CrPC), requires the prosecution of any public servant to be sanctioned by the appropriate administrative authority. For a cabinet minister, the appropriate authority is the PM.
While agreeing with the rational behind this piece of law, one wonders why a court is not competent to decide whether an act was performed in the discharge of duty by a public servant. On balance it would appear the court should proceed with the case without this mandatory sanction of the competent authority. There will be no perversion of justice.
The PM's amendment needs to be approved by both houses of parliament to become law.
See this video:
[[{"type":"media","view_mode":"media_large","fid":"4″,"attributes":{"class":"media-image","typeof":"foaf:Image","height":"360″,"width":"640″,"style":""}}]]