14 April 2012. Jadavpur University chemistry professor Ambikesh Mahapatra was arrested for circulating a cartoon derogatory to Mamata Banerjee – Chief Minister of West Bengal and The Trinamool Congress leader. His neighbour, Subrata Sengupta, was also taken into custody along with him.
Mahapatra and his neighbour were charged with defamation, insulting the modesty of a woman and cyber offences.
"We are tracking Internet Protocol (IP) addresses from where such posts are being made," IBNS quoted a senior police official as saying.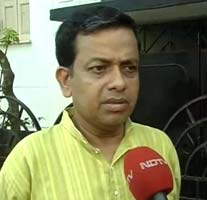 Ambikesh Mahapatra
The cartoon has since been removed from the Facebook. But Hindustan Times had already published the cartoon. The cartoon showed the chief minister and the railway minister apparently exchanging dialogues from a popular Bengali film Sonar Kella, a detective masterpiece by Satyajit Ray, which alluded to the replacement of Dinesh Trivedi by Mukul Roy as Railway minister. The cartoon had lines from the film, in which a boy called Mukul is duped by two criminals into believing that they caused a "wicked man" — who is actually a good person — to "vanish".  The "wicked man" who has "vanished" is former railway minister Dinesh Trivedi, forced out of office by Banerjee in March.
The cartoon reproduced by Hindustan Times is here: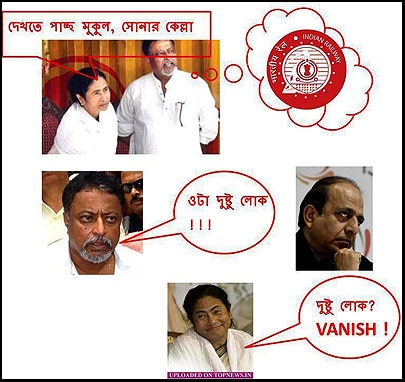 The 'cartoon' that led to JU professor's arrest. From top to bottom: 1. Mamata Banerjee points to Indian Railways' logo and tells Mukul Roy: See Mukul, the Golden Fortress; 2. Mukul Roy points to former railway minister Dinesh Trivedi and exclaims: That's an evil man!!!; 3. Mamata says: Evil man, vanish!
The funniest part is that the cartoon does not seem to be even all that funny or outraging the modesty of anyone. What are cyber offences? Her supporters blamed that the cartoon had put her on poor light. But by arresting the professor, she had put herself on even poorer light. Thousands of cartoons and jokes have appeared on the social networking sites such as Facebook and Twitter. Some even asked whether India is a democracy or a Fascist country.  Only the opposition communist party had condemned the arrest out rightly.  Congress did but  halfheartedly because it is a junior partner in the West Bengal coalition government and because it is at the mercy of Banerjee at the Centre.
Mahapatra is the assistant secretary of New Garia Housing Society while his neighbour Sengupta is the secretary. Eyewitnesses told The Sunday Express that on 12 April 2012 that a group of local Trinamool leaders who run a syndicate supplying building material and doing construction work stormed the office of the housing society and demanded the payment of a pending bill of $ 33,000. The group was headed by Abhijit Mukherjee, a local Trinamool Congress leader who runs a shop supplying building material. Mahapatra and Sengupta had blocked the payment saying the contractors' claims of work could not be verified.
The arrest was followed by a strong condemnation from the academic community and the Left. Banerjee defended academic's arrest by saying that those who committed crime have been arrested. She added that the protests against her action will have no impact on her.
Sources say that Banerjee is becoming increasingly intolerant to any incident that shows her in bad light, however innocuous it may be. Last month, the state government was severely criticised after it passed an order to state-funded libraries to stock only specific eight vernacular newspapers for promoting 'free thinking' among readers.
East Jadavpur police arrested four Trinamool Congress activists of the New Garia area on the southern fringes of Kolkata in connection with harassment of Professor Ambikesh Mahapatra. All the four, however, were given bail on personal security bonds of $10 (Rs 500) each by the Alipore court where they were produced. The professor and his neighbour were released on bail on personal bonds by the same court.
Reacting to the arrest of the professor, former Railways Minister Dinesh Trivedi said cartoons are integral to democracy. The cartoon features Mr Trivedi besides Banerjee and Mr Trivedi's successor as Railway Minister, Mukul Roy. Trivedi had to quit the Union Cabinet after he fell foul of Banerjee for increasing train fare in rail budget and had to eventually resign on her directive.
Here is some background to the cartoon. Mamata Banerjee was Union Minister of Railways until 19 May 2011 when she resigned to become the Chief Minister of West Bengal. She asked Manmohan Sing to appoint Mukul Roy as Railways Minister. Singh made him Minister of State for railways while Singh held the railways portfolio pro tem. Roy was peeved.
On 11 July 2011 the Kalka mail headed to Delhi derailed at Fatehpur, killing 69 people, after militants planted an IED device on the tracks. Manmohan Singh asked Roy to visit the scene of the accident. Roy openly defied the Prime Minister saying "There is no need for me to go to the accident site now. I am not the railways minister. The prime minister is. I am only one of three Ministers of State."  Roy was shunted out of the Railways during a Cabinet reshuffle on 12 July 2011. Roy had the distinction of annoying even the immensely patient Prime Minister.
Dinesh Trivedi, also from Banerjee's Trinamool Congress Party and from West Bengal, became railway minister after that. He announced the first increase in passenger fares in eight years in order to shore up the creaking railway network which was a major drag on the economy. Fare hike received furious response from Banerjee. Banerjee wants to control the railways so that she can dole out free passes and run trains in West Bengal to even destinations that are not viable.
After Trivedi announced the fare hike, Banerjee asked Manmohan Singh to replace Dinesh Trivedi with Mukul Roy, as India's next Minister of Railways. This led to the resignation of Trivedi on 18 March 2012. Manmohan Sing is currently seeking to pass the budget for 2012-13. If Banerjee's Trinamool Congress did not support the budget and withdrew from the ruling coalition, he is likely to face a no-confidence motion. Banerjee controls crucial seats in the Lok Sabha and has periodically embarrassed the Sing government. She will not hesitate to do so again. Trinamool Congress has become the most troublesome ally to the ruling government at the Centre.
Here is a YouTube video of IBN news