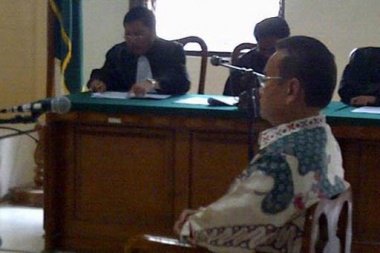 Untung Wiyono
Semarang  21 March 2012. Semarang Corruption Court in Central Java acquitted former Sragen regent Untung Wiyono of corruption charges surrounding the misuse of US$4.4 million of the 2003-2010 regional budget.
Untung reportedly misused funds for private purposes and together with other suspects, former Sragen regency administration staff Kurhardjono and  Sri Wahyuni, transferred cash from the Sragen administration funds to two rural banks.
A panel of judges presided over by Lilik Nuraini found that the transfer was carried out by his subordinates during his tenure in 2001.
Untung was known for reforming the Sragen regency bureaucracy and improving public services. He was also alleged to have faked his diploma.