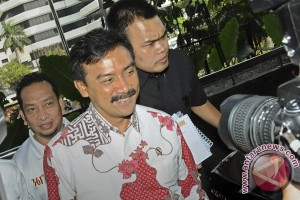 Minister of Youth and Sports Andi Mallarangeng
24 May 2012. Minister of Youth and Sports Andi Mallarangeng arrived here on Thursday at the Corruption Eradication Commission (KPK) office to give testimony about an alleged corruption case involving the development of the Hambalang sports centre in Bogor district, West Java province.
Former Democrat Party treasurer Muhammad Nazaruddin said Andi had once hosted a meeting with him and Democrat Party member of parliament Angelina Sondakh. "The meeting discussed about the Hambalang project," he added.
Earlier, KPK had questioned Bambang Tri Wibowo, CEO of contractor company PT Adhi Karya, in connection with the same case. Until now, KPK has questioned 70 people during the process of its investigation into the $162 billion-worth sports center development project.