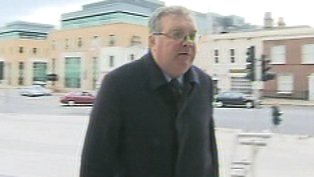 Liam Cosgrave
27 April 2012. Former Fine Gael politician Liam Cosgrave has failed in his attempt to stop his trial on corruption charges.
Mr Cosgrave is charged with corruptly receiving payments in relation to land re-zoning at Carrickmines in Dublin while a county councillor in the 1990s.
He had appealed against the High Court's refusal to stop his trial. But this morning the Supreme Court upheld the High Court's decision by a majority of three to two. Mr Cosgrave pleaded guilty in October 2005 to a single count of knowingly making a false or misleading declaration contrary to the Electoral Act.
He was sentenced to 75 hours of community service.