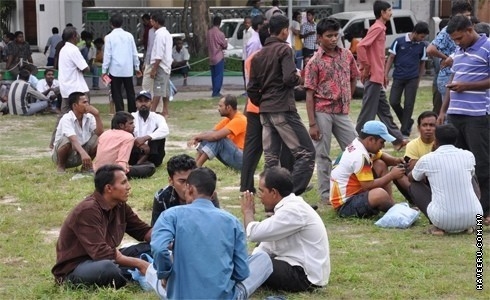 Bangladeshi workers in Maldives
13 January 2012. A government investigation revealed that a chain of paper companies was used by unscrupulous recruitment agents, who solicit labourers from mostly Bangladesh with the promise of well-paid jobs in the Maldives, confiscate their passports and either abandon or offer them different, poorly paid jobs on arrival.
Maldives National Defence Force (MNDF) took over counters at immigration and the labour department for two weeks in July 2011 and had submitted its report. This report has not yet been released to the public.
Head of the Commercial Crime Unit, Inspector Mohamed Riyaz, revealed at the time that police had seized 4000 passports confiscated from trafficked workers during the two week takeover, and that two of the seven bogus companies identified as trafficking workers, Ozone Investments Pvt Ltd and Arisco Maldives Pvt Ltd, had brought in 3000 workers between them.
Using the fake companies, the traffickers fraudulently obtained work permit quotas for non-existent projects from the Human Resources Ministry by stealing the identities of unwitting, bribed or complicit Maldivians, or even the deceased. Police had received many complaints about such forgeries from the confused third party, Riyaz said.
Many of the quotas requested from the Human Resources Ministry had been approved despite obvious warning signs such as the importing of construction workers for specialised IT projects, he noted.
"We are deeply involved in this and are taking steps to counter [human trafficking]," Foreign Minister Ahmed Naseem said.
Prosecuting traffickers was difficult because many victims were reluctant to come forward because of their illegal status, he said.
"Many will not seek legal recourse even if puts them in a very difficult situation," he observed. "They have sold everything to come here."
Human Resources Minister Hassan Latheef told Minivan News that the government would extend a part amnesty to the estimated 20,000 illegal workers in the country, inviting them to register and seek employment from a willing sponsor, and legalise their presence in the country.
"They will be given a second chance to register and try to find a local employer," he said. "But if they have no employment, they will have to leave."
The government has also submitted a bill on human trafficking to the parliament. A report into the practice was due to be released Human Rights Commission of the Maldives (HRCM) on Human Rights Day, December 10, but has not yet appeared.
In 2010, the United States' State Department placed Maldives on its Tier 2 Watch list for Human Trafficking, following a report that Bangladeshi workers were being exploited in high numbers by fake companies promising work permits.
The Maldivian government has halted the issuing of new work permits to Bangladeshi nationals and will begin registering the biometric details of all expatriate workers, in an effort to combat rising human trafficking. Employers will also be advised to cease withholding the passports of foreign nationals.
Foreign Minister Ahmed Naseem, Human Resources Minister Hassan Latheef and Home Minister Hassan Afeef announced the measures at a joint press conference on Wednesday, together with the Attorney General.
The government will begin registering the details of Bangladeshi nationals from March 31, using a new database developed by the National Centre for Information Technology (NCIT). This registration will eventually be extended to expatriate workers of all nationalities, who make up a third of the Maldives' population.