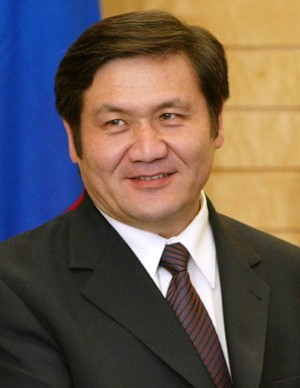 Nambar Enkhbayar
2 May 2012. Mongolia's opposition coalition Tuesday blamed the country's incumbent president Tsakhia Elbegdorj for orchestrating the arrest of former president Nambar Enkhbayar.
The coalition of the Mongolian People's Revolutionary Party (MPRP) and the Mongolian National Democratic Party said in a statement that the Mongolian court system, which should have been independent from politics, is effectively controlled by Elbegdorj, and the country's independent anti-corruption agency has been under his direct control.
On April 13, Enkhbayar, also chairman of the MPRP, was arrested by Mongolia's special police agents upon the instruction of the anti-corruption agency.
The agency accused Enkhbayar of being involved in an illegal privatization deal of a hotel and publishing house and of using TV equipment donated by the Japanese Buddhist Organization to a Mongolian Buddhist organization to form his own TV station.
The opposition said: "The authorities have blocked every attempt of Enkhbayar, the opposition leader, politician and patriotic fighter, to defend himself."
The opposition said that Elbegdorj effectively controlled the court and law enforcement agencies and therefore orchestrated the arrest of Enkhbayar.
The arrest of Enkhbayar continuously shocked Mongolia's political system. On Monday, four lawmakers of the ruling Mongolian People's Party decided to quit after their demand to dismiss Interior Minister Tsend Nyamdorj was rejected by the party.
The lawmakers blamed Nyamdorj for being responsible for masterminding the arrest and rough handling of Enkhbayar. However, Nyamdorj has repeatedly claimed he was not aware of the planned arrest.
Enkhbayar is currently in jail in Tuv province of Mongolia after a district court of Ulan Bator last week decided to extend the arrest of the MPRP chairman for two more months until June 27, just one day before the June 28 parliamentary and local elections.
Enkhbayar's supporters claimed that the arrest was motivated by political purposes and aimed to stop him from running for the parliamentary elections.