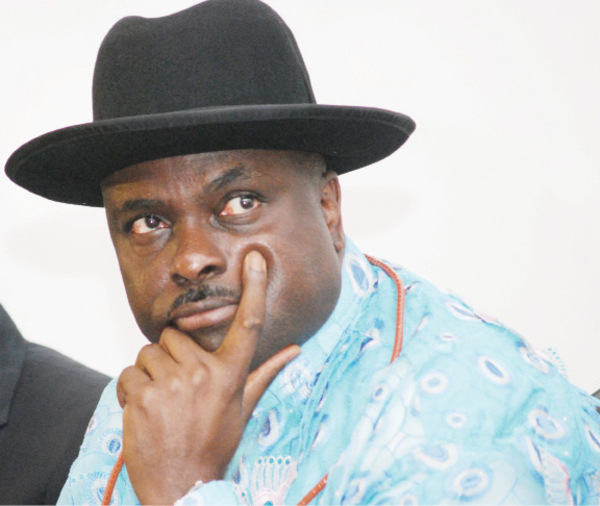 James Ibori
LONDON — A former governor of Nigeria's oil-rich Delta state pleaded guilty in a British court Monday (27 February 2012) to charges of money-laundering, conspiring to defraud and fraudulent money transfer, officials said. James Ibori, 49, entered his plea at Southwark Crown Court. He is to be sentenced on 16 April 2012.
Paul Whatmore of the Metropolitan Police said Ibori's guilty pleas ended an inquiry which began in association with Nigerian anti-corruption investigators in 2005. Ibori had immunity from prosecution in Nigeria between 1999 and 2007 when he was governor of Bayelsa state, police said.
Police are now seeking to confiscate all of his stolen assets so they can be repatriated for the benefit of the people of Delta state.
Metropolitan Police said that Ibori used the money to buy luxury houses in London and Johannesburg, a fleet of armoured Land Rovers, and a $20 million private jet.
In 2009, a court in Ibori's home town of Asaba dismissed 170 charges of corruption against him. The case was reopened in 2010 by Nigerian investigators, but Ibori evaded arrest and fled to Dubai, where he was detained at the request of British police and extradited to London in 2011.
British prosecutors previously obtained convictions against Ibori's wife, Theresa; his sister, Christine Ibori-Ibie; his mistress, Udoamaka Oniugbo; his lawyer, Bhadresh Gohil; a financial agent, Daniel Benedict McCann; and corporate financier Lambertus De Boer.
Police said two computer hard drives seized from the lawyer's London office proved to be a major break in the case.
Ibori had previous convictions in London, police said. He and his wife were charged in 1990 with stealing goods from a hardware store where Ibori worked as a cashier; he was fined 300 pounds. In 1991, he was fined 100 pounds after being convicted of handling a stolen credit card, police said.