Hector Martinez Maldonado
WASHINGTON – Hector Martinez Maldonado, a former Puerto Rico Senator, and Juan Bravo Fernandez, the former president of the largest private security firm in Puerto Rico, were each sentenced on 1 March 2012 to 48 months in prison, respectively, for their roles in a bribery scheme involving the passage of legislation beneficial to Bravo Fernandez's business, announced Assistant Attorney General Lanny A. Breuer of the Justice Department's Criminal Division.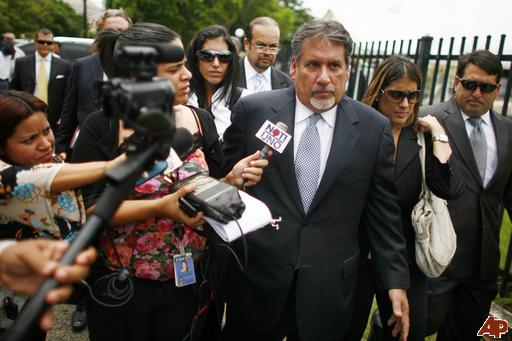 Juan Bravo Fernandez (centre)
The defendants were sentenced by Judge Francisco A. Besosa.  Judge Besosa also ordered Bravo Fernandez to pay a $175,000 fine and Martinez Maldonado to pay a $17,500 fine.
They were convicted On March 7, 2011. Maldonado and another senator, Jorge de Castro Font accepted  trip to Las Vegas to watch a boxing match in 2005 in return for help in passing two bills in the senate that would benefit Fernandez's business interests.