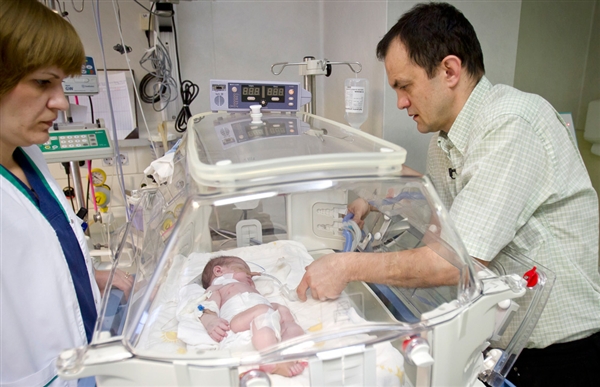 Doctor Catalin Cirstoveanu, right, checks a newborn baby before transport to Italy for heart surgery from the intensive care unit of the Marie Curie children's hospital, on March 22, 2012, in Bucharest, Romania.
31 March 2012. In Romania it is common for patients to pay bribes to hospital staff to get medical attention. A surgery may cost hundreds of dollars and more. Anaesthetists charge roughly a third of that, depending also on what a patient can afford. Nurses receive a few dollars from patients each time they administer medications or put in drips. Getting a certificate to have an operation abroad can easily cost hundreds of dollars if you ask the wrong doctor.
Dr.Catalin Cirstoveanu is an exception. He has a zero tolerance for corruption. He runs a cardio unit with state-of-the-art equipment at a Bucharest Marie Curie children's hospital. But this unit is not functioning because he would not allow any medical staff to take bribes from the patients. So no one wants to work for him.
So Cirstoveanu launched a lonely crusade to save babies who come to him for care. He flies them to western Europe on budget flights so they can be treated by doctors who don't demand kickbacks.
Last week took a 13-day-old Catalin with emergency breathing equipment, who needed heart surgery by a cheap flight to Italy, where doctors were waiting to perform the surgery. The operation was successful.
Two days later, he took a 3-week-old baby to the same clinic in north-western Italy but the child died before she was able to have lymph gland surgery. He said that he was worried throughout the journey that it wouldn't work. But he thought that in Romania she would have died anyway.
The soft-spoken Cirstoveanu is fighting an exhausting and largely solitary battle against a culture of corruption that's so embedded in Romania that surgeons demand bribes to save infants' lives and it's even necessary to slip cash to a nurse to get the sheets changed.
It's one of the reasons why the country's infant mortality rate is more than double the European Union average, with one in 100 children not reaching their first birthday.
While the Romanian state appears unwilling to do anything, it often ends up footing the bill.
At the Marie Curie unit, Catalin's operation would have cost $2,700 to $4,000 without bribes. Romanian state health insurance is paying 10 times that for his operation in Italy — a small fortune in a country where the average monthly salary is $470 after tax.
Last year, some 2,800 Romanian doctors – discouraged by the antiquated and corrupt health system and low wages – left to work in Western Europe, according to the Romanian College of Doctors.
If the doctors and medical staff were paid a decent salary, probably they would not resort to bribes.
But anger is rising. One of Marie Curie's donors, Procter & Gamble, has several times gone back to the hospital and the Health Ministry to ask questions about when the unit will start functioning.
Things are changing, but very slowly. Anca Mandache, a child heart surgeon, left her career in France to offer her services to the Marie Curie hospital, taking a salary one tenth of what she would have earned there. Others also are expressing an interest in working at the clinic
To those mothers, whose children he had saved Cirstoveanu is more than a hero. "He is a god for us and the children," said Gheorghe Meliusoiu, Catalin's 28-year-old woodcutter father. "If there were more like him, many lives would be saved."