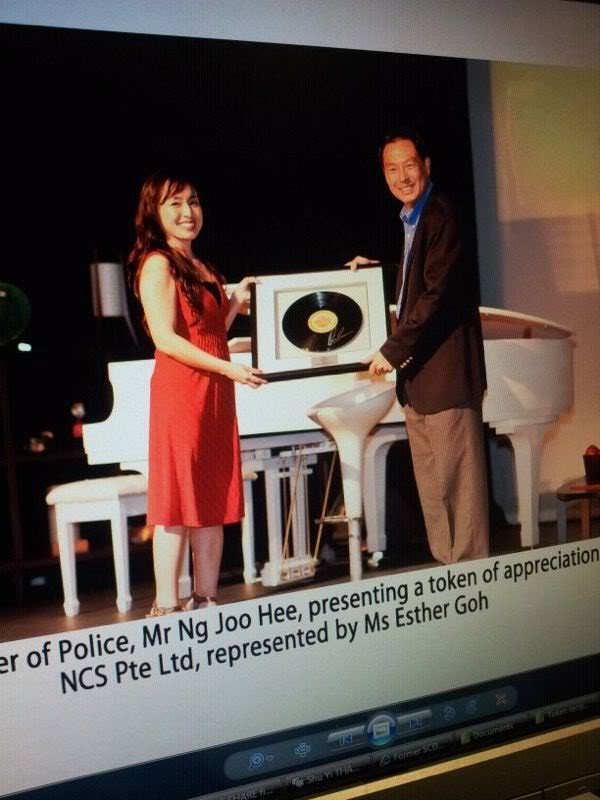 16 June 2012. The photograph of Esther Goh Tok Mui has been circulating online. Her name was mentioned in the case of former Singapore Civil Defence Force (SCDF) commissioner Peter Lim Sin Pang. The photograph shows former NCS director, Esther Goh Tok Mui, receiving a token award from the Police Commissioner Ng Joo Hee at a charity concert held to raise funds for the Community Chest. The awards were given to those who donated more than $10,000 to the charity.
In their statement, which is posted on their Facebook page, the police said that Ng "deeply regrets that the photograph has been misused by irresponsible persons online as a basis for making vulgarities, inanities and all manner of mischievous innuendos".
Commissioner of Police Ng Joo Hee is not acquainted with Esther Goh, the police said in a statement on Friday.
Netizens started to leave lewd comments after the photo surfaced on sites such as the SammyBoyForum and citizen-run blog Temasek Times.
The police also said they hoped recent events will not dampen support for their annual fund raising efforts. "It will be unfortunate and most unfair should the Community Chest and the charities that it supports suffer because of the actions of a few misguided and irresponsible individuals," it said.
Ms Esther Goh has since left the company, The Straits Times said.