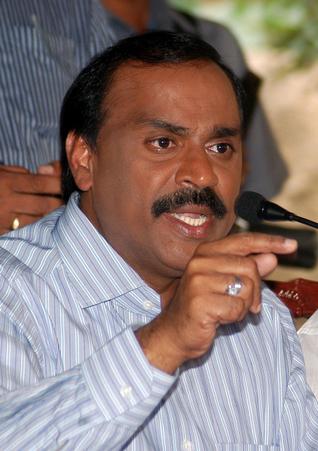 Gali Janardhan
17 June 2012. Anti-Corruption Bureau (ACB) investigators yesterday took retired judge TV Chalapathi Rao into custody and suspended Central Bureau of Investigation (CBI) court judge T Pattabhirama Rao's son, T Ravi Chandra, in the Gali Janardhan Reddy cash-for bail case.
ACB had raided the residences of Pattabhirama Rao, Chalapathi Rao, Chalapathi's relative P Srinivas Rao, and lawyer E Uma Maheshwar Rao.
Chalapathi Rao and Ravi Chandra would now be produced before a magistrate.
On 8 June 2012, CBI had lodged a complaint with ACB stating that former first additional special judge T Pattabhirama Rao and seven others had entered into a conspiracy to obtain bail for Gali Janardhan who is an accused in the Obulapuram illegal mining case.
The other people being investigated include Karnataka MLAs G Somashekhar Reddy and TH Suresh Babu, their associate G Dasaratha Ram Reddy and advocate T Aditya.
CBI also stated that they had seized $315,000 (Rs 1.62 Crores) from five bank lockers in the city with the keys in Ravi Chandra's possession. CBI has also seized $220,000 (Rs 1.14) crore in cash from Chalapathi Rao's brother, T Balaji Rao. ACB registered a case against them on 9 June 2012 and began the probe. As part of the investigation, ACB raided the residences of T Pattabhirama Rao, Chalapathi Rao, his brother TST Saibaba and relative E Uma Maheshwar Rao in Hyderabad and Chalapathi Rao's relative P Srinivas Rao's house.
ACB director general, B Prasada Rao said that ACB has arrested retired judge TV Chalapathi Rao and Ravi Chandra based on the evidences collected and that further arrests would be made when the process of gathering evidence is completed. The cash-for-bail case was first picked up by CBI after Pattabhirama Rao granted bail to former Karnataka minister Janardhan Reddy, but rejected a similar petition by suspended IAS officer Y Srilakshmi in connection with the Obulapuram Mining Company (OMC) scam.
IAS officer Y Srilakshmi has been charged with illegally favouring Obulapuram Mining Company (OMC) owned by Gali Janardhan Reddy. The IAS officer was secretary of mines in the industry and commerce department and was responsible for the deletion of the crucial word 'captive' from the Government Orders (GO), thus helping OMC sell iron ore mined in Anantapur district to foreign companies at a huge profit. According to the original GO, the mining company could sell iron ore only to Brahmani Steels because of the 'captive mining' restriction. Srilakshmi was arrested on Nov 28, 2011 and has been lodged at Chanchalguda jail ever since but for a brief period of freedom when she was out on bail. Now, with the state according permission to CBI to prosecute her under CrPC as well as the Prevention of Corruption Act, the investigative agency is expected to speed up the probe and charge her in the illegal mining case.
The Land Transfer Regulation Act 1959 and the Mines and Mineral Development and Regulation Act 1957 prevent non-tribals from conducting mining activities in tribal areas. To circumvent these two Acts, the state government issued Government Order No 64 on 13 June 2010.
The Kiran Reddy government on 12 June 2012 decided to cancel the lease of Bayyaram iron ore mines spread across 140,000 acres of land in Khammam district. The land was leased for 10 years to a joint venture of AP Minerals Development Corporation Ltd (APMDCL) and Rakshana Steels for iron ore mining. Through this arrangement the land ended up with a private party. The Government Order relating to this deal was signed by then mining Secretary Ranjeev R Acharya, wife of BP Acharya, the IAS officer who is in jail now in the Emaar scam.
The Telugu Desam Party (TDP), in the opposition, had stated that Rakshana Steels was owned by a close member of the YSR family.
The land was leased to Rakshana Steels on the lines of the bauxite agreement that APMDCL had with Anrak in Visakhapatanam district in 2007. The GO ratifying the joint venture of APMDCL and Rakshana Steels in 2009 explicitly mentioned the Anrak bauxite agreement. So, the cancellation of the Bayyaram joint venture should raise doubts on the bauxite project in Visakhapattanam as well, state government sources said.