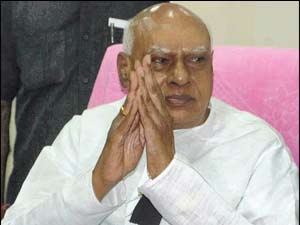 Governor of Tamil Nadu – K Rosaiah
19 Jube 2012. The former Chief Minister of Andhra Pradesh and present governor of Tamil Nadu – K Rosaiah has been summoned by an anti-corruption court in Hyderabad. This has come as another set back to the Congress government.
He has been asked to be present in the court on 2 August 2012 in connection with allocation of 9 acres of prime land in Hyderabad which has resulted in a loss of revenue amounting to Rs 200 crores to the government. The land originally belonged to Hyderabad Metropolitan Development Authority.
In December 2010 advocate Mohan Lal filed a case in Anti-corruption court alleging that Rosiah had allocated prime land belonging to the government to private parties. ACB officials who investigated the case told the court that there was no evidence against Rosiah and therefore requested the court o close the case.
Following a 'protest petition' filed by the petitioner, the court decided to examine the witnesses in the case and found it fit to summon Rosiah to the court.