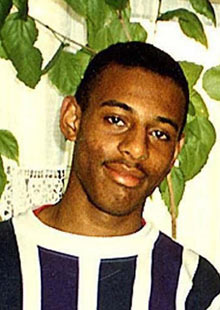 Stephen Lawrence
24 April 2012. Stephen Lawrence, a black British teenager, was murdered, 19 years ago,  in a racist attack, while waiting for a bus, by a gang of white youths chanting racist slogans. After the initial investigation, five suspects arrested were not convicted because the handling of the case by the police and Crown Prosecution Service was affected by issues of race.
A public enquiry headed by Sir William Macpherson concluded that the force was "institutionally racist". Although Macpherson enquiry did not go any further in giving justice to Stephen Lawrence, it made a landmark recommendation in the history criminal justice in Britain. It recommended that the double jeopardy rule should not apply to murder cases to allow a retrial upon new and compelling evidence coming to light. The recommendation became law in 2005.
On 18 May 2011, following a cold case review, two of the original suspects, Gary Dobson and David Norris, were asked to stand trial for the murder in the light of "new and substantial evidence" becoming available. At the same time Dobson's original acquittal had been quashed by the Court of Appeal, allowing a retrial to take place. This appeal became possible following the amendment to the double jeopardy rule in 2005.
4 January 2012, Dobson and Norris were sentenced to detention at Her Majesty's Pleasure. This is the equivalent of a life sentence. It amounts to 14 to 15 years in jail. The sentence is shorter because the accused were juveniles and not adults at the time of the crime. Even then, the trial judge described the case as a "terrible and evil crime".
Last month a leaked Scotland Yard report alleged Detective Sergeant John Davidson, one of the lead investigators in the initial botched inquiry, received corrupt payments from Clifford Norris, whose son, David Norris, was a prime suspect in the murder of Lawrence.
Complaints investigation bureau of the police department initiated an enquiry, codenamed Operation Russell, triggered by allegations that Commander Ray Adams had taken bribes from criminals and had improper relationships with criminal informants. Lawyers for the Lawrence family questioned former commander Ray Adams at the Macpherson inquiry in 1998 about corruption. Another allegation against Mr Adams was concerning his relationship with Kenneth Noye, who was later convicted of murder.  DC Alan "Taffy" Holmes, a friend and co-worker of Ray Adams shot himself in 1987 whilst Ray was being investigated for corruption.
Ray Adams later became the head of security of the Murdoch subsidiary NDS. In this role he is alleged to have paid a hacker to access the smart codes of a rival TV that later collapsed after mass counterfeiting of TV access cards.
The investigators did not file any criminal or misconduct charges against Adams because they did not have sufficient evidence. But neither the Lawrence family nor the inquiry panel were given the findings of the investigation.
Following these findings Doreen Lawrence, Stephen Lawrence's mother, has asked Home Secretary Theresa May to launch a new Macpherson-style inquiry. Theresa May, too, is reported to believe that the allegations of police corruption are of the 'utmost importance' and that a thorough investigation is required in order to restore confidence in the police.
Nineteen years ago Daily Mail published this article.
Daily Mail
In 1999, the suspects decided to give a public Interview to BBC's Martin Bashir.
Here is a YouTube video of the 1999 BBC interview.
The wheels of justice may turn slowly in Britain but they deliver justice no matter how long it takes. In some jurisdiction this case would be considered time barred by now.