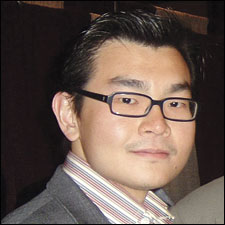 Rudy Kurniawan was arrested by the FBI at his California home and charged with five counts of fraud.
A US millionaire wine dealer, reportedly of Indonesian origin, is facing fraud charges after being accused of trying to sell more than $1.3m in counterfeit wine, some of which seems to have made its way to London.
Prosecutors in New York charged Rudy Kurniawan, 35, with "multiple fraudulent schemes" relating to his wine business between 2007 and 2012, including attempting to sell fake wine and fraudulently obtaining millions of dollars in loans.
Several weeks ago, 21 of Mr Kurniawan's bottles worth £500,000 are believed to have made their way to a London auction house, but they were reportedly withdrawn at the last minute on recommendation of the wine merchants Corney and Barrow.
Yesterday, Mr Kurniawan was refused bail after prosecutors filed an emergency application. US court heard that dealer claimed bottles were a 1929 vintage, but estate did not open until 1934.
Mr Kurniawan, said to be a regular player at the some of the US's biggest wine auction houses, offered buyers an unconditional return policy – something which is extremely rare in the industry. In 2006 alone, he sold wine worth $35m, to clients including the billionaire businessman and collector William I Koch, who is now suing the dealer for allegedly selling him counterfeit wine.
It is also reported that Kurniawan's real name is Zhen Wang Huang and that he's actually from China, not Indonesia. It is usual for Chinese of Indonesian origin to have an Indonesian official name to escape from discrimination against minorities.
Kurniawan first ran into trouble in April 2007, when he attempted to sell six magnums of 1982 Château Le Pin at a Christie's auction in Los Angeles. The bottles were pictured on the cover of the auction catalog; the château saw the catalog and immediately contacted Christie's to say that based on the photo, the magnums were clearly fakes. Christie's reexamined the bottles, came to the same conclusion, and pulled them from the sale.
In April 2008, Kurniawan attempted to sell multiple lots of fake Domaine Ponsot wines at an Acker Merrall auction in New York. Laurent Ponsot, the winery's owner, traveled to New York to prevent the sale from going forward, and the wines were pulled at the last minute.