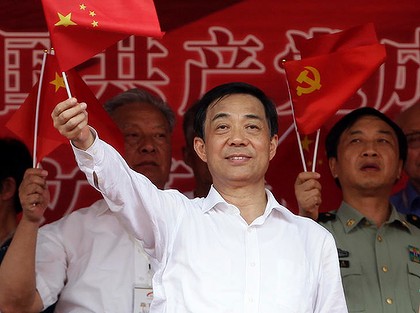 Bo Xilai
China – 11 March 2012. Chinese politician Bo Xilai, well known for his anti-corruption crackdown, has spoken out for the first time in public since the defection of his right-hand man, Wang Liju. Mr Wang fled Chongqing in an apparent attempt to save his own life.
A local businessman and Chongqing party delegate, Zhang Mingyu, was detained by police after he threatened to release explosive information on connections between Mr Wang and a local tycoon and alleged mafia boss, Weng Zhenjie.
This incident appears to have threatened Bo's high-flying political aspirations. Mr Bo, party chief of the south-western city of Chongqing, admitted he had made an error in promoting Wang Lijun, his former police chief.
Bo was the only one of the 25 members of the ruling Communist Party's Politburo not present at Thursday's meeting of the National People's Congress. The body is holding its annual 10-day session in Beijing this month. State broadcaster CCTV's evening news showed Bo attending a meeting on Thursday of the Chongqing delegation, although he was not heard speaking.
Mr Bo had appeared to be on the way to the ruling Communist Party's all-powerful inner circle, the Politburo Standing Committee, until last month.
Bo Xilai who is known to want a seat at the top table of power in China, has missed an important session at the annual parliament, prompting speculation about his future. His absence is being read as a sign of a power play at the heart of the Chinese leadership,and a sign that Mr Bo's bid to win a seat on the Standing Committee of the Politburo, the nine-man body that runs China, may have been weakened.
A chinese woman is said to be suing Bo Xila for torture. Watch this video, while it is available in Youtube.
Previous posts:China:  Police chief's story may indicate an internal power struggle