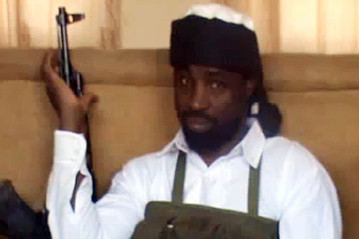 Abubakar Shekau, the leader of Nigeria's Boko Haram Islamist militants, dressed in a black turban and a white gown and bullet-proof vest, holding an AK 47 rifle.
22 June 2012. The U.S. State Department placed sanctions on three leaders of the Boko Haram Islamic militant group in a bid to stem increasing violence in Nigeria.
Boko Haram, has claimed responsibility for a spate of recent attacks in Nigeria, its main area of operation. Lawmakers in the U.S. introduced legislation last month that would designate Boko Haram as a foreign terrorist organization.
Its most visible leader is Abubakar Shekau and he State Department on Thursday named him as a terrorist along with Khalid al-Barnawi and Abubakar Adam Kamba, who have ties to Boko Haram and to al Qaeda in the Islamic Maghreb, the State Department said.