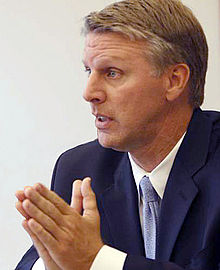 Timothy Cahill
5 April 2012. Former Massachusetts treasurer Timothy Cahill and two top aides pleaded not guilty yesterday to public corruption charges at Suffolk Superior Court. They were alleged to have used the taxpayer-fund to launch a television advertising campaign for the state lottery that was really intended to boost Cahill's failed 2010 campaign for governor.
They were released on personal recognisance ahead of their trial set for 24 September. Cahill is charged with violating state ethics laws, procurement fraud and conspiracy to violate both laws. The other two charged were his former chief of staff, Scott Campbell, and Alfred Grazioso, the lottery's former chief of staff.
After his arraignment, Cahill said "No one did anything wrong. No one used public money to produce and run a campaign ad." He added that this long process will clear his name in the end.
The campaign did not feature Cahill or mention him by name. He was the head of the commission that runs the lottery.
Here is a YouTube video of former Treasurer Tim Cahill talking about the state corruption case against him after his Suffolk County court arraignment on 4 April 2012.
Previous post – USA: Timothy Cahill indicted in corruption case