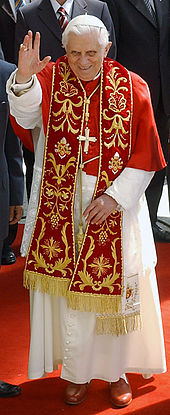 Pope Benedict XVI
21 May 2012. Italian journalist Gianluigi Nuzzi polished a book entitled "His Holiness". The book contained confidential letters and memos to and from Benedict and his personal secretary which, according to the Vatican, violated the pope's right to privacy.
The book shed light on power struggles inside the Holy See and the thinking of its embattled top banker.
Pope Benedict XVI has already appointed a commission of cardinals to investigate the "Vatileaks" scandal, which erupted earlier this year with the publication of leaked memos alleging corruption and mismanagement in Holy See affairs and internal squabbles over its efforts to comply with international anti-money laundering norms.
The Vatican had already warned of legal action against Nuzzi.  Vatican spokesman the Rev. Federico Lombardi said in a statement Saturday the book was an "objectively defamatory" work that "clearly assumes characters of a criminal act." He said the Holy See would get to the bottom of who "stole" the documents, who received them and who published them. He warned the Holy See would seek international cooperation in its quest for justice, presumably with Italian magistrates.