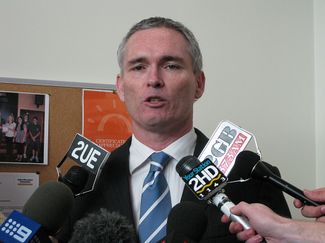 Craig Thomson
8 May 2012. Health Services Union boss Michael Williamson is alleged to have interfered with a police raid on a branch office.
Police is investigating into alleged misuse of credit cards by Williamson and former HSU official and now federal MP Craig Thomson. Craig Thomson grossly exploited his position as national secretary of the Health Services Union, using his union credit cards to splurge $500,000 on prostitutes, spousal travel and high living, a three-year investigation by Fair Work Australia (FWA) has found.
FWA investigator Terry Nassios also found that Mr. Thomson appointed several people including his half-brother Struan Robertson to union roles without proper authorisation.
Officers from the NSW Fraud and Cybercrime Squad seized documents and accessed computers.
During the operation, police intercepted Mr. Williamson, the general secretary of HSU East Branch, in a car park in an adjacent building, police sources said.
Police said a bag of documents relevant to the investigation had been found in a car park.
On Monday, Workplace Relations Minister Bill Shorten lodged an application in the Federal Court to have HSU East bosses sacked, an administrator put in their place, and the union split up to re-create separate NSW and Victorian branches.
HSU national secretary Kathy Jackson, in a Federal Courts case, is seeking to exclude some of Mr. Williamson's allies from voting on the governing HSU East branch council. If successful, Ms. Jackson's application could enable her Victorian anti-corruption faction to potentially seize power from Mr. Williamson's NSW faction and expel him.
Apart from the secret commission claims, police are investigating an alleged conflict of interest between Mr. Williamson's part ownership of an IT company, United Edge, and the fact it has a $1 million contract with his own branch.
Other allegations under investigation include HSU East's employment of several members of Williamson's family, and claims an architect engaged by HSU East to build union offices also did work on Williamson's dream homes.
Williamson has vigorously denied any wrongdoing, but has stepped aside from his union positions pending the outcome of Strike Force Carnarvon.
Here is a video: