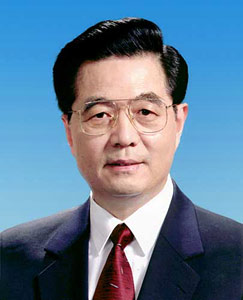 Hu Jintao
China 11 March 2012. In a speech delivered to mark the Chinese Communist Party's 90th anniversary on July 1, 2011, the party's secretary-general Hu Jintao, also China's president, said the party's 90-year history shows that its lifeline lies in its ability to prevent corruption by severely punishing corrupt officials. He urged all party officials to rally behind party authorities in its fight against graft.
Furthermore, the authorities have urged more transparency in the decision-making process, calling for public debate on policy and issues concerned with the general public.
Despite this, the Chinese Academy of Social Sciences said in its "China Anti-corruption Campaign Report No. 1" that corruption, far from being eradicated, has developed from individual crime to organised mass crime, from simple forms into more sophisticated forms, and has spread from the fields of the economy, politics and the judiciary to now include the fields of culture and education, and has also spread from China to overseas.
The cause rests in the country's inadequate anti-corruption mechanisms.
First, the country's assets registration system is not comprehensive. Furthermore, their declaration is not subject to public scrutiny. In China, corrupt officials are always first probed by party authorities. They will be handed to law enforcement officials only if they were found guilty by the party. This system gives party authorities, rather than the judiciary, the power to decide whether a wrongdoer should face justice.
Law enforcement agencies should have a free hand to investigate and punish corruption, without interference from the party and politically influential people.  The country's media should to play a larger role in bringing corruption to light. These measures could check the rampant growth of corruption.