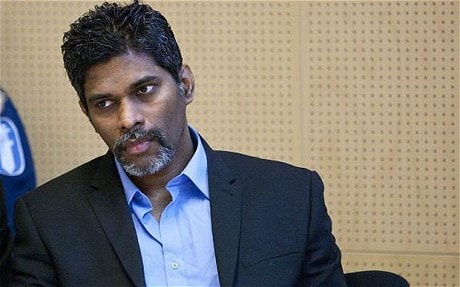 Wilson Raj Perumal
The Singaporean, Wilson Raj Perumal, 45, was jailed for two years in July 2011 for his part in a match-fixing scandal in Finland's top division. He is noted for max-fixing in many countries. He is wanted in Singapore for his criminal offence and not for match-fixing.
The International Federation of Association Football (French: Fédération Internationale de Football Association) (FIFA) security head Chris Eaton revealed that convicted match-fixer Wilson Raj Perumal convinced South Africa's Football Association (FA) to appoint referees through his company.
A FIFA investigator said that the first stage of his probe into international match-fixing has turned up no evidence implicating South Africans.
Perumal is also believed to have played a role in Zimbabwe's tour of Asia where a number of international matches were fixed, although the current probe centres on games involving South Africa shortly before the 2010 World Cup.
The outcome of friendlies against Thailand, Colombia, Bulgaria and Guatemala in the weeks leading up to the tournament are all in question after FIFA found the match officials had been provided by a Singapore-based company fronting for match fixers.
Perumal  currently held in Hungary over alleged football corruption charges, following his release from a Finnish prison last week, after serving half of his two-year sentence for bribing Finnish football players. He could also be wanted by the authorities in other European countries.
He is suspected of having a hand in fixing a football match involving Estonia and Bulgaria, in addition to cases in the United States, the Middle East and Africa.
In 2009 in Singapore he was sentenced for five years' jail with corrective training for driving without licence and hurting two Certis Cisco officers. He jumped bail of $80,000 while on appeal.
Previous post: South Africa: FIFA match-fixing investigation