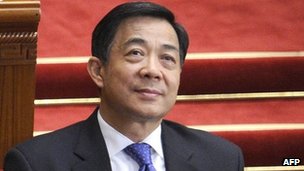 Bo Xilai
11 April 2012.  Last month Bo Xilai was removed from the post of party chief in Chongqing. In order to put an end to viral rumours and speculations, the party decided to suspend him from the Party's Central Committee and the powerful Politburo. The state-run news agency Xinhua announced late Tuesday that he will be formally investigated for "serious discipline violations". "Discipline violation" is an euphemism for corruption.
The Xinhua news report did not specify what the allegation was against Bo. But in a separate report it linked Bo's wife Bo Gu Kailai and Zhang Xiaojun, a family staff member described as an "orderly", to the death of a British businessman, Neil Heywood.
Bo Gu Kailai and their son Bo Guagua were said to be in good terms with Heywood.  Xinhua said. "However, they had conflict over economic interests, which had been intensified." Usually "economic interest" means bribery and allied corruption.
Bo Gu Kailai and Zhang Xiaojun were arrested and have been transferred to judicial authorities
Bo's downfall was sparked off by his deputy, Wang Lijun, seeking asylum in US Consulate. It is one of the biggest political earthquakes in decades and has put a blemish on otherwise clean slate of peaceful transfer of power at the upcoming Party Congress. His removal has also led to intense rumours of split in the party's high-command. Bo's patron in the Politburo's Standing Committee, Zhou Yongkang, who is in charge of internal security, was unhappy with the decision to remove Bo. Several analysts noted that Zhou was absent from broadcast images late Tuesday night that showed most of the other top Chinese leaders meeting with the visiting Turkish premier.
Bo became politically influential because of his father who was a revolutionary leader during Mao's era and one of the founding fathers of modern China. Besides this eminent heritage, Bo had built a successful political carrier leading to the post of party chief of Chongqing Municipality and a seat in the 25 member Party Politburo. He was ambitious and badly wanted a seat in the 18 member standing committee.
For background please do a site-search for "Bo Xilai" and you will find many articles on this site describing various developments in the Bo Xilai story. But this one is recommended: China: Rise and Fall of Bo Xilai