Chongqing, 15 March 2012. Zhang Dejiang has taken the place of Bo Xilai  as Party chief of Chongqing,  according to a decision of the Communist Party of China (CPC) Central Committee announced Thursday (15 March 2012).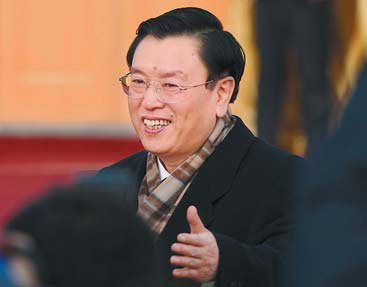 Zhang Dejiang
Bo looses his post of secretary, standing committee member and member of the CPC Chongqing municipal committee.
Wang Lijun, his right hand man and vice mayor of Chongqing, who helped Bo spearhead the anti-corruption crackdown, was also at the centre of the scandal that brought Bo down.
Li Yuanchao, head of the Organization Department of the CPC Central Committee, made this announcement, reported xinhuanet.com.
Zhang, 65, a native of Tai'an, Liaoning province, became a member of the Political Bureau of the CPC Central Committee in 2002 and began serving as vice premier of the State Council, China's Cabinet, from 2008. Zhang had previously served as Party chief in Jilin, Zhejiang and Guangdong provinces, respectively, between 1995 and 2007.
Here is a YouTube news story.

Previous posts: China: Embattled Bo Xilai speaks out ; China: Police chief's story may indicate an internal power struggle;
China: Chongqing deputy mayor in graft rumours; China: High ranking military official detained