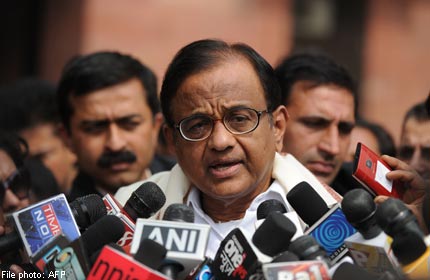 Union Home Minister P Chidambaram
7 June 2012. Madras High Court refused to dismiss a petition challenging the election of Union Home Minister P Chidambaram to the Lok Sabha from Sivaganga constituency in the 2009 elections.  Justice K Venkatraman of the Madurai Bench of Madras High Court dismissed Mr Chidambaram's plea seeking dismissal of the petition filed by AIADMK candidate Raja Kanappan, who had unsuccessfully contested against the Union Home Minister in the Lok Sabha. However the judge removed two of the 29 charges levelled against Mr Chidambaram. The two allegations which were removed included the charge that Mr Chidambaram's poll managers used the services of bank officials and banks and induced voters with cash for his election.
The home minister, one of India's most high-profile public figures, is accused of "manipulating votes and indulging in corrupt practices" in the election, which was won overall by an alliance led by the Congress party. Chidambaram, who is likely to appeal Thursday's ruling, has previously rigorously denied all allegations of corruption.
Mr Kannappan in his petition filed on June 25, 2009 sought a direction to declare the election of Mr Chidambaram from Sivaganga constituency as null and void. He alleged that Mr Chidambaram had manipulated votes and also indulged in corrupt practices along with his election agents and others with his consent. He had also sought recounting of votes polled in the entire constituency, particularly in the Alangudi Assembly segment.
Anti-corruption activist Anna Hazare on Wednesday said Union Home Minister P. Chidambaram would be the first person to go to jail if the Lokpal Bill was passed. He said, "If the bill is passed, half the Cabinet of Manmohan Singh would be in jail," and reiterated that the Prime Minister might be an honest man but the problem "is the remote control through which he is being controlled."
Mr. Hazare said Mr. Chidambaram was the one who had hatched the conspiracy to arrest him in Delhi and send him back to Pune in August last "but I preferred to go to jail and the government was forced to give the Ramlila ground for the agitation.." He said the government wanted to scuttle his protest last year like it did Yoga guru Baba Ramdev's agitation "by beating up sleeping women and children at midnight."
"This government does not want to bring back black money stored abroad because many in the government have their money abroad.", he added.
In Maharashtra, he said, six Cabinet Ministers and over 400 public servants were "forced to resign because of the anti-corruption campaigns launched by me." He said he was instrumental in bringing in the Right to Information Act, which helped in unearthing many scams.