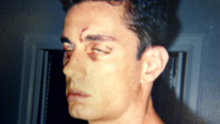 Chris Quigley
In the corruption trial of five former Toronto drug squad officers, the Crown witness told the court that he was so badly beaten by police, he thought he would die from his injuries. Chris Quigley, the Crown's lead witness, testified that he thought that he would die.
Five former Toronto police drug squad officers were charged with committing a savage beating, extortion, theft of thousands in cash and a conspiracy to lie about and cover up a series of illegal arrests, searches and seizures.
Quigley described in detail being threatened and subjected to a series of three beatings while in custody at Toronto police 53 Division near Yonge and Eglinton over the night of April 30 and May 1, 1998.