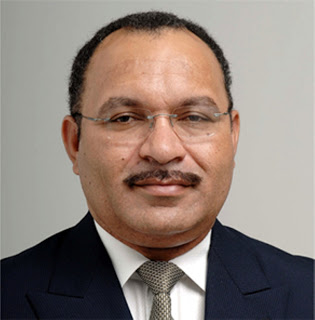 PNG Prime Minister Peter O'Neill
In Papua New Guinea (PNG), almost 1 billion kina [US$467 million] of public funds goes down the drain annually because of widespread corruption. This was revealed by Public Service Minister Bart Philemon, during a debate in parliament on the first national anti-corruption strategy 2010-30. Because of this, he said, the national wealth had failed to trickle down to the people – despite the billions of surplus money in government. He said that there had been a record budget of 60 billion kina [US$28 billion] in the past nine years.
Prime Minister Peter O'Neill introduced in parliament the 20-year strategy which he says sets out a clear pathway to end corruption in PNG.
"Yet there is common agreement that, despite efforts to eradicate it, corruption continues to run unabated and is doing inexorable harm to the very fabric of the PNG society,'' he said.
"Influential reports from both the PNG government and independent sources show clearly that corruption is no longer sporadic, isolated to certain segments of the community and institutions. Rather, corruption appears to be more systematic and endemic."
In 2010, the Public Accounts Committee reported that it had made inquiry into 1,000 agencies, each examined from 2003 to 2008,  and found that the management and accountability of public servants and the government had collapsed miserably.
Overall, there had been a rise both in terms of the number and frequency of corruption and bad governance practices as shown by the investigations by government. the public accounts committee, the auditor general and Ombudsman Commission.
He said the anti-corruption strategy was not only about criminalising corrupt conduct but, more importantly, preventative measures in educating youth and children about the dangers of corruption.