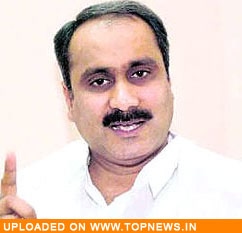 Anbumani Ramadoss
27 April 2012. Former Union Health Minister Anbumani Ramadoss was on Friday charged by CBI in a Delhi court for allegedly abusing his official position in allowing a Indore-based medical college (Index Medical College Hospital and Research Centre) to go ahead with admissions without having sufficient faculty and clinical material.
Nine others charged included two senior government officials and two doctors of Safdarjung Hospital here and five persons associated with the private hospital in Indore which allegedly gained "pecuniary advantage".
Medical Council of India (MCI) and a committee appointed by the Supreme Court had "repeatedly recommended" that IMCHRC was not having sufficient faculty and clinical material required as per the MCI norms.
The former minister blatantly overruled the Medical Council, the Committee appointed by the Supreme Court and even his own ministry officials in authorising the college to go ahead with recruitment of students for another year.
The system is bad. In the first place the former minister was not a competent person to decide whether the college concerned had the required facilities to impart proper education. But yet with one signature he was able to overrule all the others who were competent.
Such Medical colleges charge exorbitant fees, take sub-standard students and impart substandard knowledge and let them out as fully qualified doctors. Isn't there a danger to the society from this practice? You are playing with the lives of people!
Only the Medical Council should have the authority to approve or disapprove a medical college. The council's decision should be final. Even the Supreme Court should not interfere. There can be an appellate Medical Council to hear appeals from those who are not satisfied with the decision of the Medical council. This is the practice in may countries.
There is another problem here. Why should there be private medical schools? Why can't the government run fee paying medical schools? If the government runs all the medical schools then the education standard would be uniform across the country. I know that some private medical colleges in India are recognised by countries like Malaysia and Singapore. But if all the colleges are run by the government the qualification of all the doctors will be recognised in other countries. At the same time many good students from foreign countries would be willing to study in India as full fee paying students. Thus India has the potential of becoming an educational hub for medicine in Asia. This is a golden opportunity for India, if the leaders can think ahead.
Watch this video – CBI charges Ramadoss in a corruption case