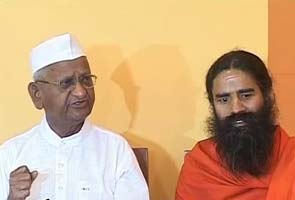 Anna Hazare and Yoga guru Baba Ramdev
3 June 2012. Launching a joint agitation against corruption and black money, yoga guru Ramdev and anti-corruption crusader Anna Hazare started a day-long fast at Delhi's Jantar Mantar Sunday.
Before beginning the fast, Ramdev and Hazare went to Tikri Kalan village in Delhi's outskirts and paid tributes to Netaji Subhash Chandra Bose at a memorial there. They then visited Rajghat, the memorial of Mahatma Gandhi. Both sat there in meditation for a while, and then went to nearby Shahid Park.
Ramdev was accompanied by his close aide Acharya Balkrishna, while Team Anna members Arvind Kejriwal and Kiran Bedi accompanied Hazare.
At Shahid park, Ramdev garlanded the statues of martyrs.
The two then along with supporters reached Jantar Mantar around 10 a.m.
Here is a video which shows Ramdev stealing the show at Jantar Mantar – NewsX
[[{"type":"media","view_mode":"media_large","fid":"4″,"attributes":{"class":"media-image","typeof":"foaf:Image","height":"360″,"width":"640″,"style":""}}]]