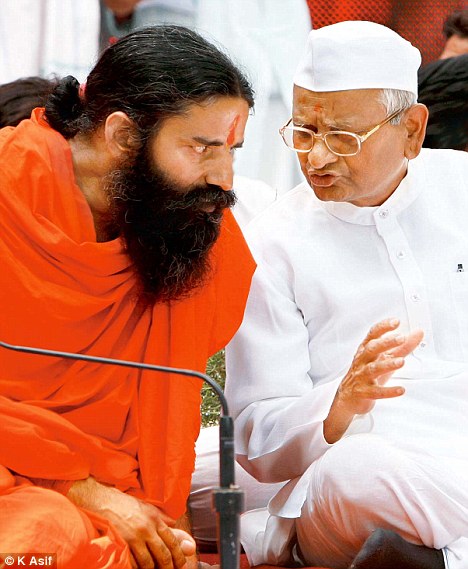 Yoga guru Baba Ramdev and Anna Hazare
5 June 2012. Former army chief general VK Singh said that there was nothing wrong in the movement against corruption launched by social activist Anna Hazare and Yoga guru Baba Ramdev.
General Singh, while talking to reporters at Vrindavan in Mathura, noted that the government should find out the way to tackle corruption which hurts the common man the most. General Singh is known for his fight against corruption in armed forces.
General Singh said that he had no intention of entering politics, while Anna has invited Singh to join him in his fight against corruption in India.
Joint one day fast by Anna Hazare and Yoga Guru Ramdev was to showcase the consolidation of the anti-corruption movement. But Ramdev hogged the limelight
and the issue of black money was given primacy over Anna's Jan Lokpal Bill.
At the fast venue Ramdev snubbed Arvind Kejriwal for taking names, and making personal attacks on politicians.  On being snubbed by Ramdev,  Kejriwal abruptly exited the fast venue . Later he said that he left the venue because of his illness. The serious differences of opinion between the two sides came to the fore during the token fast staged Sunday.
Furthermore, the turnout of six to eight thousand people at the Parliament Street venue largely comprised Ramdev's rural support base from the outskirts of Delhi, neighbouring Haryana and the eastern belt of Uttar Pradesh. Vocal and visible support to Ramdev was evident from the posters and slogans put up around the venue.
Ramdev said that he would launch a protest in August unless the government brings back illegal money in foreign banks.
Reports say $500bn of illegal money was deposited in overseas tax havens. The government has proposed setting up fast-track courts to deal with the two contentious issues of illegal money and tax evaders.