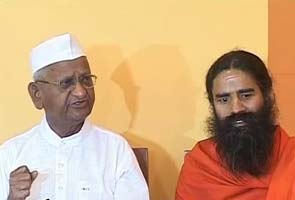 Anna Hazare and Yoga guru Baba Ramdev
2 June 2012. Yoga guru Baba Ramdev and social activist Anna Hazare will hold a day-long fast at New Delhi's Jantar Mantar on Sunday in an attempt to put more pressure over the Congress-led United Progressive Alliance (UPA) government on issues related to corruption and black money.
Ramdev is expected to announce his future strategies in connection with the 2014 General Elections at this fast. Ramdev said on Friday that Prime Minister Manmohan Singh was not politically honest. However, he still had faith in Singh's "personal honesty," Ramdev clarified, addressing a press conference about a planned hunger strike on June 3 fast along with Hazare at in New Delhi. He pointed out that the Prime Minister does not take responsibility for the actions of his corrupt ministers.
Team Anna has also attacked the Prime Minister over the controversial coal-gate and ridiculed a Central Bureau of Investigation (CBI) probe into the controversial coal blocks allocation while Prime Minister Manmohan Singh was in charge of the portfolio. It further noted that CBI reports to Prime Minister and hence cannot conduct an impartial inquiry. Hence the probe should be by an independent body.
The CBI is conducting a preliminary investigation on whether there was a scam in how coalfields were allotted to private companies between 2006 and 2009.
Union Coal Minister Sriprakash Jaiswal has denied any corruption in allocation of coal blocks during the last 15 years. He, however, said whether the allocated companies misused the coal could only be ascertained after an inquiry.
Speaking to media persons in Bhubaneswar on Friday, he said successive governments pursued a policy of allocating coal blocks to private companies to make power available to the common man at an affordable price as Coal India alone could not meet the growing demand. He said such allocations were made after the companies entered into power purchase agreement with the Government.