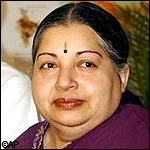 J. Jayalalithaa
Bangalore, India. Advocate general of Karnataka, B.V. Acharya resigned from his post citing "pressure from the government to quit as SPP" as the reason for his resignation, ", though the official reason given was that he could not hold two posts at the same time.
He was appointed as special public prosecutor (SPP) by the Karnataka chief justice on the direction of the Supreme Court in a corruption case against Tamil Nadu chief minister J. Jayalalithaa.
The case against Jayalalithaa is that she amassed assets worth over$ 12 million during her first chief ministership. The case was transferred to a Bangalore court by the Supreme Court to ensure a fair trial.