President Emomali Rahmon
Tajikistan. Authorities in Tajikistan have recently announced a number of high-profile arrests on corruption and narcotics-trafficking charges. President Emomali Rahmon criticised harshly the corrupt and nepotistic practices in the country's military and law-enforcement sectors. It was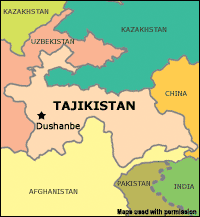 Map of Tajikistan
revealed in a televised meeting the top officials of the military, Internal Affairs and National Security have been extending special privileges to their children and relatives. These people are given "golden numbers" like "7777" or "8888" for their cars thus giving them immunity from police checks.
Tajik security agencies arrested two traffickers who attempted to smuggle almost 110 kilograms of drugs from the Afghan border to Dushanbe in a car with a "golden" number plate. Although the names of the arrested individuals have not been released, authorities announced that one of them is a son of a "retired general" and another one is a child of a "Tajik diplomat".
Rahmon himself is widely known to be corrupt. US diplomatic cables that were leaked by Wikileaks in 2010 show the level of corruption of Rahmon and his family. A cable dated 16 February 2010 from the US embassy in Dushanbe, Tajikistan's capital, describes how Rahmon runs the country's economy for his own personal profit. Rahmon and his family control the country's major businesses, including the largest bank, and they protect their personal interests at the expense of the country's economy. According to a cable export revenue from state owned companies were diverted into offshore companies owned by the President.