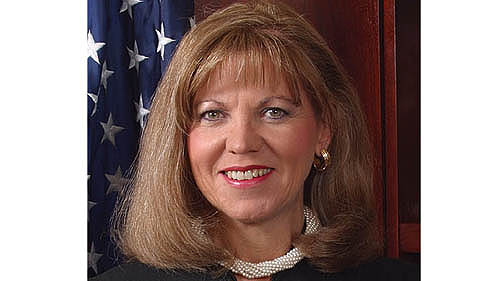 Joan Orie Melvin
19 May 2012. Pennsylvania Supreme Court Justice Joan Orie Melvin was charged with using her taxpayer-funded staff to campaign for her seat on the state's Supreme court.
Allegheny County District Attorney Stephen A. Zappala Jr. filed the charges based on a 75-page grand jury presentation. The grand jury voted on Thursday to charge the justice with theft of services, conspiracy, solicitation to tamper with or fabricate evidence, official oppression and misapplication of entrusted property.
Justice Melvin, 56, pleaded not guilty and wrote to Supreme Court Chief Justice Ronald D. Castille, informing him that she was "voluntarily recusing herself from all judicial duties pending resolution of the criminal charges." She hails from a prominent political family in Pennsylvania.
The high court later issued an order relieving her of her duties "in view of the compelling and immediate need to protect and preserve the integrity of the Unified Judicial System and the administration of justice for the citizens of the commonwealth."
Melvin is the third Orie sister charged with using state staff for political work.
State Senator Jane Orie, who served as majority whip in the Senate, was convicted two months ago. (Previous post- USA: State Senator Orie convicted on 14 charges in corruption case). She is awaiting sentencing.
Another sister, Janine Orie, faces trial on August 13 on charges of using her sisters' judicial and legislative staffs to campaign for Orie Melvin.
Watch this video: Pennsylvania Supreme Court Justice Joan Orie Melvin hit with criminal charges
[[{"type":"media","view_mode":"media_large","fid":"4″,"attributes":{"class":"media-image","typeof":"foaf:Image","height":"360″,"width":"640″,"style":""}}]]