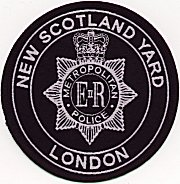 Scotland Yard
5 July 2012. Two former members of the National Health Service were arrested Thursday by officers investigating corrupt links between police and journalists exposed by Britain's phone hacking scandal, Scotland Yard said.
It said a 46-year-old man and a 42-year-old woman were arrested in Somerset, south western England, and are currently being questioned at a local police station in a probe code named Operation Elveden over inappropriate payments to police and public officials.
A 26-year-old man was held in Surrey, southeast England, as part of Operation Weeting.
Scotland Yard set up Operation Weeting to investigate into phone hacking and Operation Tuleta to investigate computer hacking alongside Operation Elveden.
The phone-hacking scandal forced the 168 year old Sunday newspaper, News of the World, to close last July.