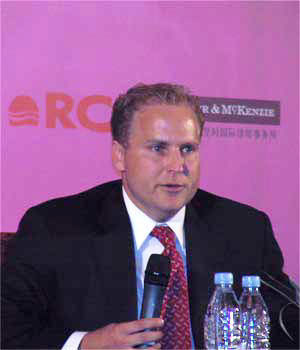 Garth Peterson
27 April 2012. Garth Peterson, former managing director in Morgan Stanley's real estate investment and fund advisory business, secretly obtained at least 1.8 million US dollars for himself and Wu Yonghua, former chairman of the Shanghai Yongye Group, which he disguised as finder's fees that Morgan Stanley needed to pay to third parties. This was in violation of the Foreign Corrupt Practices Act and securities laws.
Peterson and Wu, an attorney, gained valuable Shanghai real estate using a Morgan Stanley fund. Wu, in turn, helped Peterson and Morgan Stanley to obtain business in China while Wu benefited from some of these investments. Thus, Morgan Stanley partnered with Yongye on a number of significant Chinese real estate investments.
Garth Peterson, confessed corruption in Chinese business and agreed to a settlement of the charges by the U.S. Securities and Exchange Commission in which he will be permanently barred from the securities industry, pay more than $250,000 in fines, and relinquish his interest in the valuable Shanghai real estate (currently valued at approximately $3.4 million) that he secretly acquired through his misconduct. Peterson,  42, an American citizen living in Singapore, still faces related criminal charges by the U.S. Department of Justice and will be tried on July 17.