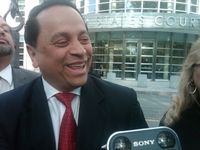 Pedro Espada
10 May 2012. The jury in the federal corruption trial of former New York State Senate Majority Leader Pedro Espada, Jr. and his son, Pedro G. Espada was unable to arrive at a unanimous decision concerning the defendants.
Federal Judge Frederic Block issued an "Allen Charge" — a set of instructions to the jury to deliberate a final time, to try and reach a unanimous verdict. He told them that could mean deciding some counts but not others. The jury has been deliberating for 8 days now.
The Espadas are accused of siphoning off hundreds of thousands of dollars from a charitable health clinic for personal gain.
The trial has lasted seven weeks. A hung jury could lead to the declaration of a mistrial and re-trying the case.