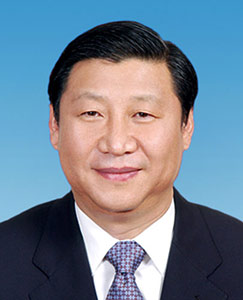 Xi Jinping
30 June 2012. China's official Xinhua news agency wrote in an editorial praising the Communist Party for ousting one-time rising star Bo Xilai. "If the issue is left unattended, a country may implode, its ruling power will collapse, and its society left in chaos."
The purge of Bo Xilai was to demonstrate Communist party's commitment to fight corruption.
At a time when Xi Jinping is about to take over as the next President of China, Bloomberg has reported that his extended family has been amassing wealth to the tune of hundreds of millions of dollars as he was climbing up the ladder of political leadership. What will the other eight men who sit with Mr Xi on the all powerful standing committee of the Politburo do in the wake of the Bloomberg disclosure? There are two choices. Ignore the report and do nothing about it or investigate how Mr Xi's family acquired the wealth. The latter course will certainly ruin the political career of Mr Xi and damage the carefully planned transition of leadership. Obviously the Standing Committee will ignore the Bloomberg report and do nothing about it.
According to public documents compiled by Bloomberg, the extended family of Mr XI consisting of his older sister and her husband and daughter has expanded its interests in minerals, real estate and mobile-phone equipment. The family's interests include an 18 percent indirect stake in a rare- earths company with $1.73 billion in assets; and a $20.2 million holding in a publicly traded technology company.
Bloomberg said that no assets were traced to Mr Xi , his wife and their daughter. There is no indication Xi intervened to advance his relatives' business transactions, or of any wrongdoing by Xi or his extended family. Could they have amassed so much wealth without Mr Xi influence?
Sifting through thousands of regulatory filings, Bloomberg traced some $24.1 million worth of Hong Kong properties belonging to the extended family of Mr Xi.
Understandably Bloomberg story was blocked inside China but some netizens managed to get around the "Great Firewall", using virtual private networks and other tactics and posted the story on the popular Sina Weibo social networking site. But such postings were quickly erased.
"I don't see this report affecting succession plans," said Charles Burton, a Brock University expert on Chinese politics. Part of the problem, he said, is there is likely no one in the leadership group who is any cleaner than Mr. Xi.
One wonders what Xinhua will write on this.