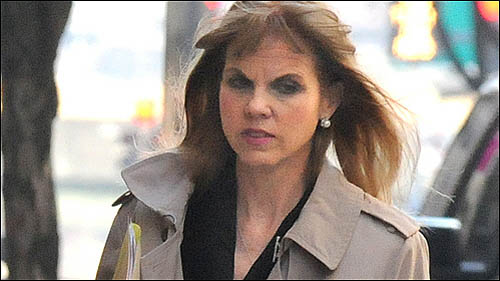 State Senator Jane Orie
27 March 2012. The foreman of her Allegheny County jury pronounced the State Senator Jane Orie, sitting Republican from McCandless, guilty on 14 of 24 criminal counts against her. The presiding judge ruled that she must now wear an electronic ankle bracelet pending her May 21 sentencing.
She could face a jail term, though Assistant District Attorney Lawrence Claus would not say if he would seek it. Instead, he said that each felony charge could result in seven years in prison.
Ms. Orie left the courthouse along with a brother, attorney Jack Orie, and sister, Janine Orie, who is also facing criminal charges as an administrative assistant for another sister, state Supreme Court Justice Joan Orie Melvin.
Ms. Orie, 50, was charged with using her legislative staffers to campaign for both herself and Justice Melvin.
The senator was also charged with perjury, forgery, tampering with evidence and election code violations stemming from her first trial in the case in February 2011.
This verdict does not bode well for Janine Orie, whose trial is pending, or for Justice Melvin who is alleged to have made improper use of judicial and legislative staff for her election campaigns..